Alarm grows in Iran over reports that hundreds of schoolgirls were poisoned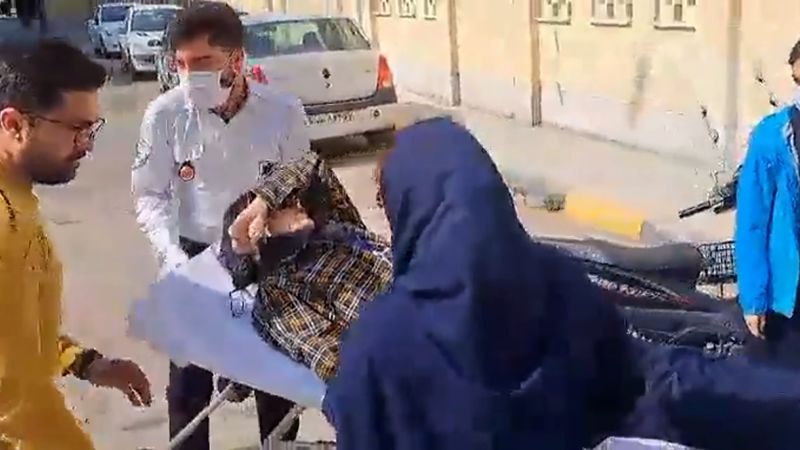 CNN
–

Concern has been growing in Iran after reports of hundreds of schoolgirls being poisoned across the country in recent months.
On Wednesday, Iran's semi-official Mehr News reported that a member of parliament, Shehryar Heydari, cited an unnamed "reliable source" as saying that "about 900 students" across the country had been poisoned so far.
According to Iranian state media, the first reported poisoning occurred on November 30 in the city of Qom, when 18 schoolgirls from a high school were hospitalized. In another incident in Qom on February 14, more than 100 students from 13 schools were taken to hospitals in what the state-affiliated Tasnim news agency called "serial poisoning".
There have also been reports of schoolgirls being poisoned in the capital Tehran – where 35 were hospitalized on Tuesday, according to Fars News. They were in "good" condition, and most of them were later released, Fars reported. State media have reported poisonings of students in Borujerd city and Chaharmahal and Bakhtiari provinces in recent months.
Many reports involve students from girls' schools, but state media also reported at least one incident of poisoning at a boys' school in Qom on February 4.
CNN has reached out to one of the schools named by state media, the Nur Yazdanshahr Conservatory in Qom, as well as individual teachers as part of the poisoning incident, but they have not responded.
Iran's Health Minister Bahram Ainolahi, who visited affected students in Qom, said on February 15 that symptoms included muscle weakness, nausea and fatigue, but that the "poisoning" was mild, state media outlet Iranian Student News Agency reported. According to a report of
Enolahi said his team had taken a number of samples from patients admitted to a Qom hospital for further testing at Iran's famous Pasteur Institute, which reported that no pathogens or viruses had been identified in the samples, ISNA reported. According to
It is unclear if the incidents are connected and if the students were targeted. But Younes Panahi, Iran's deputy health minister in charge of research and technology, said on February 26 that the poisons were "chemical" in nature, but not chemical compounds used in warfare and that the symptoms were not contagious, according to IRNA.
Panhi added that it appeared the poisonings were deliberate attempts to target and close girls' schools, according to IRNA.
"After the poisoning of many students in Qom … it became clear that some people wanted all schools, especially girls' schools, to be closed," Younes Panahi told a news conference on Sunday. According to Iran's state media outlet IRNA. Fars News said he later retracted the comment and said he was misquoted.
But a mother of two girls in Qom told CNN that both of her daughters were poisoned at two different schools, and that one of them experienced significant health problems after being poisoned last week. She spoke on condition of anonymity because of the sensitivity of the reports, and fear for her family's safety.
"One of my daughters was poisoned at school last week," the mother told CNN on Tuesday. He said they spent two days at the Shahid Behashti Hospital in Qom along with several other school children and staff. She said her daughter experienced nausea, shortness of breath and numbness in her left leg and right hand.
"Now he has pain in his right foot and finds it difficult to walk," said the mother.
Local activists and national political figures have called on the government to do more to investigate the poisonings.
"The poisoning of students in girls' schools, which has been confirmed as a deliberate act, was neither arbitrary nor accidental," Mohammad Habibi, a spokesman for the Iranian Teachers' Trade Association, tweeted on February 26.
Habibi is among a growing number of people who believe the poisonings can be linked to recent protests under the "Women, Life, Freedom" movement. The movement has been characterized by the anger of women and young girls over issues ranging from independence to the crippling state of the economy in the Islamic Republic.
"To erase the benefits of freedom of clothing, (authorities) need to instill fear in people," he tweeted.
US State Department spokesman Ned Price called the reports of the poisoning of schoolgirls "deeply troubling" during a briefing on Wednesday.
"We've seen these reports, they're very disturbing, they're very alarming reports," Price said, "It's just a despicable act to poison girls who are just trying to learn. ."
Price urged "Iranian authorities to thoroughly investigate these reported poisonings and do everything possible to stop them and hold the perpetrators accountable."
In mid-February Tasnim reported that Iran's education minister, Youssef Nouri, said that "most" of the students' situations were caused by "rumors that have scared people" and that "there is no problem." He said some students were hospitalized due to "underlying conditions," according to Tasnim.
Dan Caszetta, a London-based defense expert and fellow at the Royal United Services Institute, spoke to CNN about the difficulties officials face in verifying such reports.
"Unfortunately, such incidents can be very difficult to investigate. Often, the only way to detect the causative agent is to collect samples at the time of transmission, and this is usually difficult or impossible," he said.
"These current incidents in Iran are similar to dozens of incidents in schools in Afghanistan since 2009. In some of these incidents, pesticides were strongly suspected, but most illnesses are unknown," he added.
Cazetta added that smell is difficult to use as an indicator. "Some things have added odors because the underlying hazardous chemicals can be odorless."
Jamileh Kadivar, a prominent Iranian politician and former member of parliament, also believes there is a sinister motive behind the poisoning. "The persistence and frequency of school poisonings over the past three months proves that these incidents cannot be accidental and are likely the result of collective actions directed by think tanks and organized for specific goals," he said in an op-ed. wrote Iran's official newspaper Itlat.
According to a report by Tasnim, Iran's Education Minister Yusef Nouri visited some of the students hospitalized in Qom in mid-February after a string of school poisonings and said a special team had been formed in Tehran to follow up on the issue. was done , a state-affiliated media outlet.
Iran's national police chief, Ahmadreza Radan, said on February 28 that they were investigating the reasons behind the "poisoning" and, according to IRNA, authorities were still trying to determine whether the alleged poisoning was intentional or not. No, no one has been arrested.