Andrey Rublev complains fans with Ukraine flag were saying 'bad things' to him during Australian Open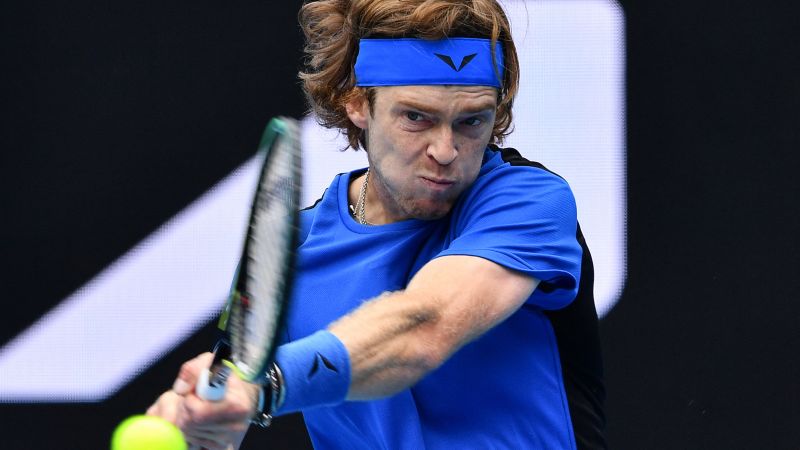 CNN
–

Andrey Rublev complained to the umpire in his second-round match at the Australian Open on Thursday for saying "bad things" to fans holding up the Ukrainian flag.
Rublev was playing Finland's Emil Rusuvuri at the Show Court Arena when two fans sitting next to the 25-year-old Russian's chair displayed a Ukrainian flag.
"It wasn't about the flag," No. 5 seed Rublev said after his four-set win. "I immediately told the referee, it's not about the flag, they can put any flag they want, I understand the situation completely.
"It was more that they started saying bad words and saying bad things to me.
"I said to the referee: 'It's not about the flag, but can you at least tell them not to say bad words when I'm on the transition.'"
Rublev has expressed his opposition to the ongoing war in Ukraine by signing 'No war, please' on camera after his victory in the semi-finals of the Dubai Tennis Championships in February.
He also wrote 'Peace, peace, peace, we all need it' after winning a match at the ATP Finals in November.
In the wake of the war in Ukraine, Russian and Belarusian tennis players have been allowed to play at the Australian Open but must do so "without flag or country recognition".
on Tuesday, Tennis Australia announced That fans will no longer be allowed to bring Russian or Belarusian flags onto the site at the Australian Open.
The decision comes after Ukraine's ambassador to Australia "strongly condemned[ed]" The Russian flag is being displayed in the stands of the Grand Slam.
The flag was seen during the first round match between Kateryna Bandel of Ukraine and Kamila Rakhimova of Russia in Melbourne.
An agency photo also shows Russian flags displayed in the stands during the first-round match between Daniil Medvedev and American Marcos Giron.
Rublev next plays No. 25 seed Dan Evans on Saturday.