Coco Gauff vs Aryna Sabalenka: How to watch the US Open women's final as American chases glory on home soil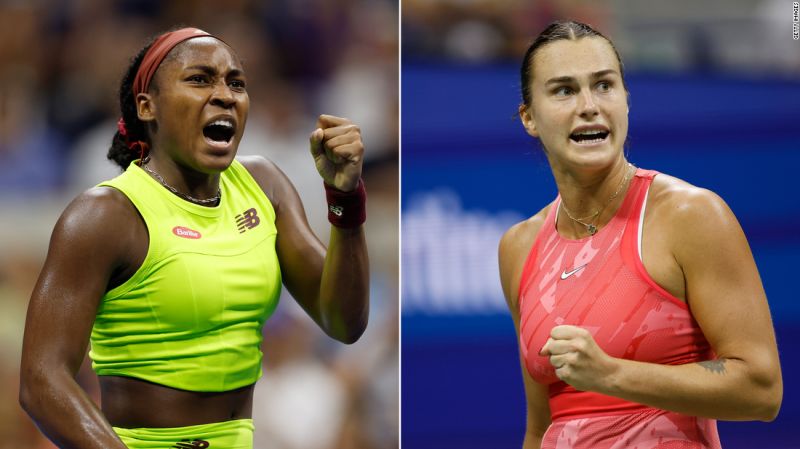 CNN
 — 

And then there were two.
After two gripping weeks of action, the women's US Open draw concludes on Saturday with a mouthwatering finale between home favorite Coco Gauff and world No. 2 Aryna Sabalenka.
Both players have produced stunning tennis en route to the final and while Sabalenka will go into the match as the favorite, Gauff will be confident she can get over the final hurdle in front of a partisan crowd on Arthur Ashe Stadium.
The action for the final grand slam title of the season begins at 4 p.m. ET.
Viewers in the US can watch all the action on ESPN, while Sky Sports will broadcast the matches in the UK.
A first grand slam for Gauff?

The last time Gauff and Sabalenka met was in the quarterfinals of Indian Wells in March, with the Belarusian winning comfortably, 6-4 6-0. Saturday's final should be an altogether different contest, however, with Gauff improving rapidly in the six months that have passed since that defeat.
The 19-year-old has won three WTA titles this season, including the biggest of her career in Cincinnati just before the US Open, and has won 17 of her last 18 matches. She is the youngest American woman to reach the US Open final since a 17-year-old Serena Williams did so in 1999.
"Serena is Serena. She's the GOAT. I hope to do half of what she did," Gauff said, per the WTA.
This will be the second grand slam final of Gauff's career after reaching the French Open final in 2022, where she was swiftly defeated by Iga Świątek.
But following her 6-4 7-5 semifinal win over Karolína Muchová, Gauff spoke about the improvement in her mentality, of going from somebody blighted by imposter syndrome to now believing she is capable of contending with the best players in the world.
"I think it's [imposter syndrome] still a part of me," she said. "It's something I'm doing better with, definitely. Even after [winning Washington] DC, I still was like: 'Well, I beat some good people, but maybe I caught them on off days.'
"It's still definitely a part of me, but I do think I'm giving myself more credit more and speaking things into existence is real. I've been trying to speak more positively of myself and actually telling myself that I'm a great player."
The sixth seed told reporters that after her first-round Wimbledon loss she was "preparing for next year," before adding she was "really proud of myself" for the way she has performed at Flushing Meadows.
"I have been focusing more on myself and my expectations of myself," said Gauff, per Reuters. "I really believe that now I have the maturity and ability to do it."
Until her semifinal against Madison Keys, Sabalenka had been dominant in New York – not dropping a set and never losing more than five games in a match.
However, she was pushed all the way by the American on Thursday and had to bounce back from a brutal 6-0 first-set loss, eventually winning 0-6 7-6 (7-1) 7-6 (10-5).after two-and-a-half hours of grueling tennis.
Such was the likelihood of a Keys victory late in the second set, Gauff was even asked about the prospect of facing her fellow American in her post-match press conference.
Sabalenka's run to the final of the US Open caps off a remarkable year in which she won three titles – including her first grand slam at the Australian Open and her sixth Masters 1000 title in Madrid. Win or lose on Saturday, she will be crowned the new world No. 1 on Monday.
Despite winning the last time they met, Sabalenka heralded Gauff's development this season and says she is a "much better" player now than she was six months ago.
"She's improved a lot," Sabalenka told reporters after her semifinal. "So it's a different player – we don't really like thinking about that match.
"Going into this final, I think I just have to focus on myself and prepare myself for another fight. No matter what, just keep fighting and keep playing my best and do my best.
"You know, there is nothing much you can, what else can you do? You just have to be there and you have to fight for it."
Sabalenka will no doubt have to play before a partisan crowd in Saturday's final but having already overcome an intense atmosphere against Keys on Thursday, she said she felt confident of handling the occasion.
"Of course, I would prefer [to] have someone else or [the] crowd be a little bit the same to both players, but today's match I think is gonna help me in the final because I'll be fine with this support. I'll be all right," she said.
"I'm still hoping that probably some of them will be supporting me – just a little bit. Just sometimes, please. Please," she laughed.