Congress releases Karnataka elections manifesto; Jobs, ban on Bajrang Dal among top promises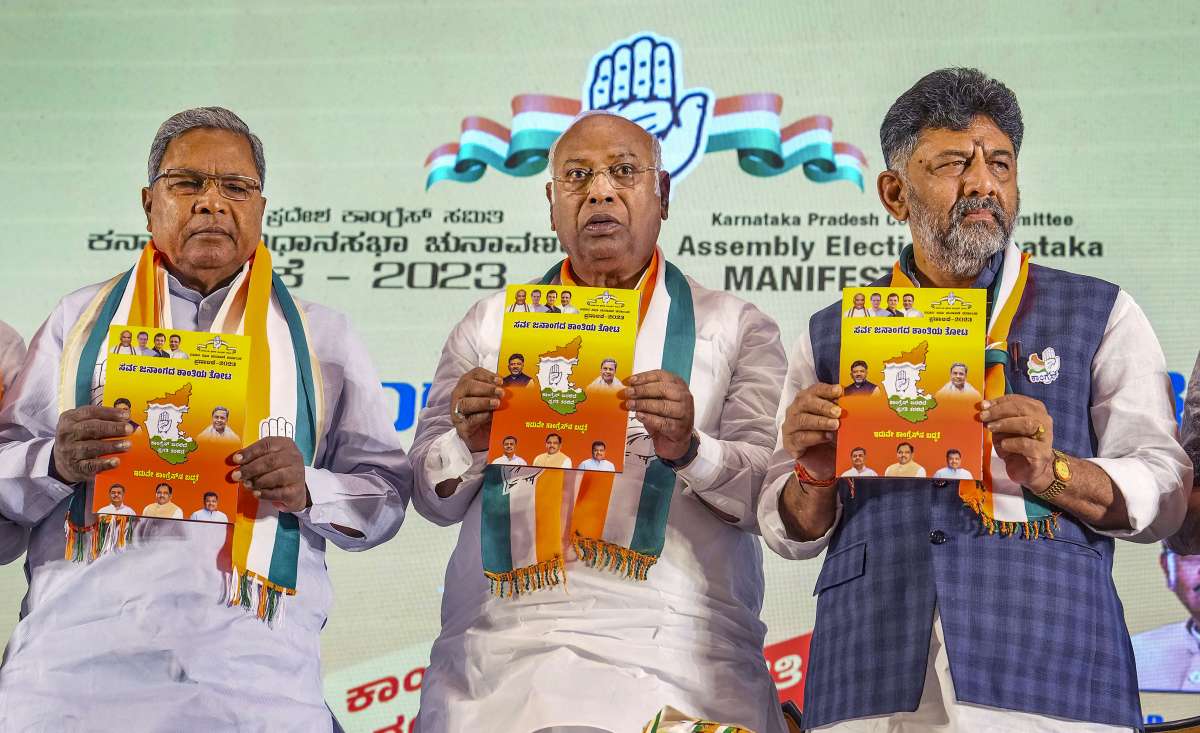 Congress Manifesto: A day after the Bharatiya Janata Party unveiled its election promises, the Congress too released its vision document with high hopes of defeating the ruling party with a huge majority. Congress president Mallikarjun Kharge, former Karnataka Chief Minister Siddaramaiah, state unit president DK Shivakumar and manifesto committee chairman Dr. Parameshwaraji were present during the release ceremony.
Releasing the vision document, the old party termed it as a blueprint for a better future for Karnataka and claimed that the plans would accelerate growth and development in the state. Among the major promises, the Congress emphasized job creation, boosting infrastructure and women empowerment in its manifesto this time.
According to the party, it will focus on a comprehensive roadmap for the overall development of the state.
"Like the successful track record of fulfilling promises in states like Rajasthan, Chhattisgarh and Himachal Pradesh, we promise to deliver on our commitments as soon as we form the government. To create jobs, boost infrastructure, empower women and schemes Focusing on. For farmers and labor forces, our manifesto lays out a comprehensive blueprint for the all-round development of the state. This time, let progress be your guiding light," it tweeted.
Free bus ride for women
It promised to repeal all unjust and anti-people laws passed by the BJP government within a year of coming to power.
The manifesto titled 'Sarva Jangada Shanti Thota' (Peaceful garden of all communities) includes the Shakti scheme which will provide free travel in regular KSRTC/BMTC buses to all women across the state and the Graha Lakshmi scheme under which every woman is the head of the family. . 2,000 will be given.
Kharge said, "I am giving a sixth guarantee that this guarantee will be implemented in the first cabinet meeting on the first day of government formation."
Ban on Bajrang Dal
Also, in its manifesto, the party likened the Bajrang Dal, the youth wing of the Sangh-affiliated Vishwa Hindu Parishad, to the banned Islamist outfit Popular Front of India (PFI) and called for similar bans on the right-wing group. has promised According to the Congress, the Bajrang Dal "promotes enmity or hatred, whether among the majority or minority communities".
Here are the major promises
It may be mentioned that elections are to be held in the state on May 10 and the results will be announced on May 13.
Also Read: BJP Releases Manifesto For Karnataka Elections; Uniform Civil Code, Free LPG, Nandini Milk I promises 16 points