David Cannon: The rise of a legendary golf photographer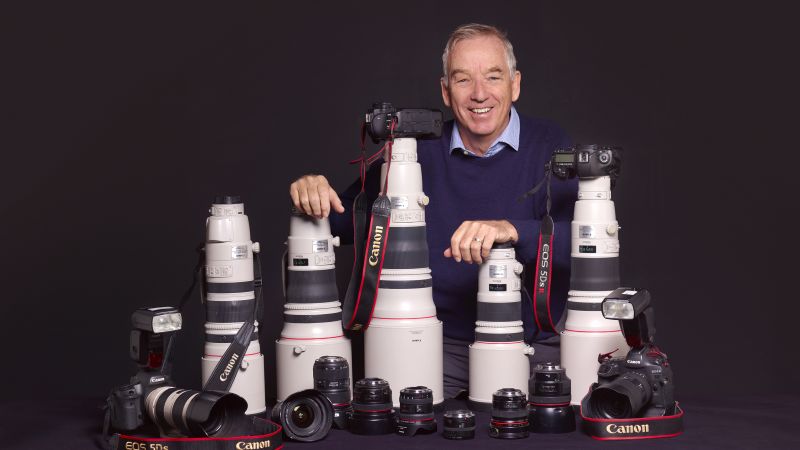 CNN
–

With his nickname, you could say that David Cannon was predestined for a career behind the lens.
After receiving the PGA of America Lifetime Achievement Award in Photojournalism in May, the 67-year-old was praised for his "technical expertise and artistic mastery."
Yet while his first professional camera was a Canon, the Englishman's journey to becoming one of the world's leading sports photographers was anything but fateful: he never even had any formal training.
Born in Sussex, Cannon was a talented golfer in his youth, boasting a handicap. Competing in a number of amateur tournaments, he finished eighth in the British Youth Golf Championship in 1974 and played alongside a young Nick Faldo in the following year's tournament.
But sharing the fairway with the future six-time major winner ended all hopes of Cannon's professional playing career.
"When I played with him [Faldo], it was like 'Oh sh*t, I'm not even in the same league,'" he told CNN Sport. "He was something else."
Needing a job to make up for the lack of financial reward in amateur golf, Cannon worked at a nylon sheet company, but after four years was longing for a change of pace. When a chance encounter with family friend Neville Chadwick, a photographer for the Leicester News Service, presented an opportunity to photograph some local sporting events, Cannon was all in.
Selling his car to fund a small telephoto lens and a camera – naturally, a Canon AE-1 – soon after sitting in a rugby stadium for a match on the New Zealand tour in November 1979.
RELATED STORY: Golf legend Tom Watson recalls his Open Classic at St Andrews
The 24-year-old was armed with just two tips that have served as the basis of his art ever since: "Focus on the eyes and fill the frame."
"I was off, that was it. The light bulb went on," Cannon said. "Playing golf suddenly took a bigger seat and every spare minute I had was buying cameras, taking pictures, going to games with extra money."
In 1983, after covering everything from the Commonwealth Games in Australia to the FIFA World Cup qualifiers in Honduras, he joined the respected Allsport photography agency. Although acquired by Getty Images in 1998, Canon has remained influential ever since, specializing in golf to become one of the most recognizable names in the field.
"I've loved every minute of it," he said, and there have certainly been a lot of minutes to love.
Cannon has covered more than 700 events and nearly 200 men's and women's majors, according to a interview Along with the Ryder Cup, the biennial event he has worked in 17 times.
Canon's eye-watering estimates of his career statistics: 3.4 million frames shot, 2.6 million miles flown, 115 countries visited, 5,000 nights spent in hotels and 13,000 miles of golf courses.
Yet Cannon insists it is a necessary commitment. While sports like football will present photographers with the opportunity to capture – at the very least – almost every match, the less dynamic nature of golf can make for slim pickings.
"You can go at least six months — maybe two years — without getting a great final freeze picture," he explained.
"Golf is very slow. People don't realize how physical golf photography is. You can walk 25,000 paces in a day, and you're only getting individual shots of golfers hitting the ball and nothing interesting if they're down the fairway all the time.
Fortunately for Cannon, his career has coincided with some of golf's most famous players, many of whom he knows personally.
Staying in touch with Faldo, he became good friends with Ernie Els and got to know Greg Norman – a trio that included 12 major wins – and had a front-row seat to the peak of the Tiger Woods era at the turn of the century.
RELATED STORY: Swedish golf's rising star hopes history-making win will be watershed moment for women's game
After photographing Rory McIlroy and newly crowned US Open champion Matt Fitzpatrick when they were rookies, he has had the pleasure of following their journey from grassroots to winning golf's biggest titles.
Yet one name stands above the rest: Save Ballesteros. As the saying goes, "never meet your heroes," but Cannon not only had the pleasure of smashing his all-time sports idol, he also became a close friend.
A photo of the great Spaniard captured near his home in Pedrena in 1996 is one of Canon's most cherished images. And his shot of the five-time major champion's iconic fist pump celebration at St Andrews en route to winning the 1984 Open are some of Ballesteros's most enduring images, who died of brain cancer in 2011.
"It's probably the most defining image of my career," Cannon said. "For a moment, it's my favorite."
When Canon took that photo, his 36-exposure camera gave him only 25 images to choose from in the entire sequence. Today, he will have five more images to choose from in a second. Yet while technology has changed dramatically, the principles of sports photography have not.
Cannon was reminded of one of these guiding rules when – caddying for his professional golfer son Chris – he oversaw a swing through the first three holes.
"'Dad, that's one thing you've got to learn, there's a 10-second rule in golf,'" Cannon recalled his son saying. "'Ten seconds after you hit the shot, you can't take it back, you can't do anything about it, you have to put it out of your mind.'
"This rule works exactly the same in photography. If you lose it, you can't go back and get it. If you're at a sporting event, it's never going to happen again. I find this rule very useful."
One of the most important crafting skills is to understand a story or moment in advance and prepare accordingly. This is easier said than done on courses that span miles of fairways, with multiple games taking place simultaneously, but advice can offer great rewards.
These were amply captured by Cannon's shot of basketball icon Michael Jordan and Spanish golfer Sergio Garcia engaged in a footrace across the St. Andrews fairway at the Alfred Dunhill Cup in 1999, once dubbed "the greatest of all time." Golf Photo" was said. In Golf Digest.
With Jordan and Garcia leading each other on the first tee, Cannon decided to stay out and track the pair down after the third hole, at which point the newspaper photographer – from the clubhouse – was no further away. Hesitating – decided to go back.
"I heard Jordan say to Garcia, 'Do you want to run, boy?'" Cannon recalled.
"It was really fun chasing them that day, and from that moment on, I walked two hundred yards ahead of them all the time."
It's the kind of information that has kept Canon at the top of its field for more than four decades. Not bad for someone with formal training.