Electric buses are driving a silent revolution in Nairobi, Kenya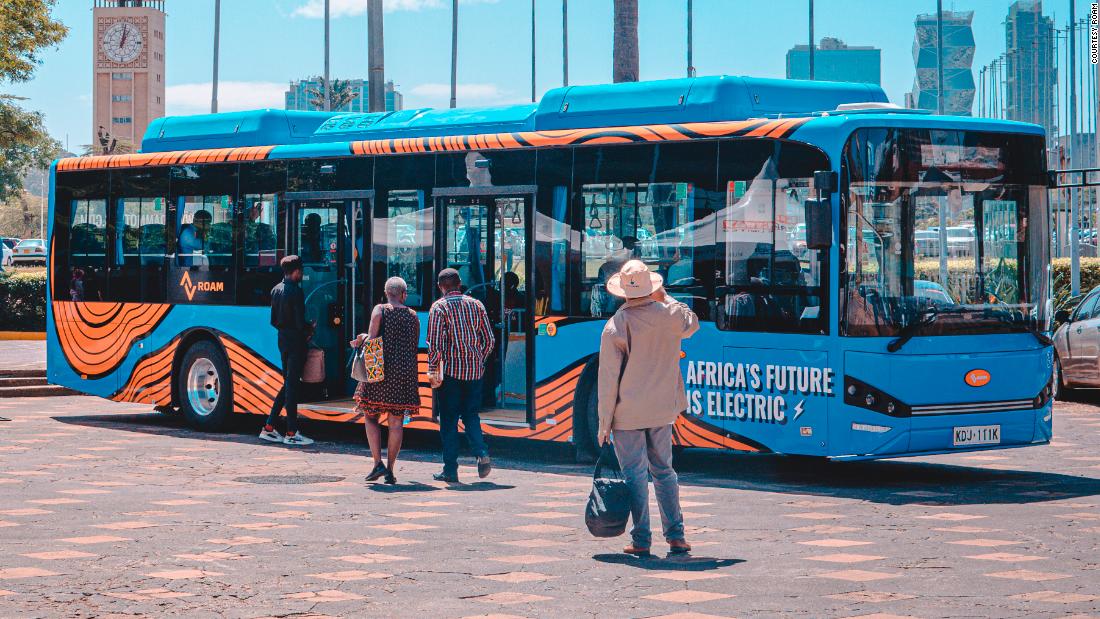 The capital of Kenya is home to Ower
Five million people
, and matatus, privately owned minibuses and shared taxis, "are critical to the way people get around in Nairobi," explains Christopher Kost, Africa Program Director at the Institute for Transportation and Development Policy. "In the city, we have 40% of trips on public transport."
"The challenge we are facing now is that these matatus are stuck in traffic," he adds. "People face delays, the service is not always reliable. These are the issues we need to fix."
Enabling a clean energy transition
BasiGo launched a pilot scheme in March 2022 by importing two 25-seat buses from Chinese electric vehicle company BYD. Operating on a fixed route in Dandora, a neighborhood in eastern Nairobi, the CEO says the two buses have carried 175,000 passengers and driven more than 135,000 kilometers (84,000 miles) to date. "What's most remarkable is that in that entire period, they had less than two days of technical downtime," he adds.
In the coming weeks, 15 more buses will hit the roads. Bhattacharya explains that these vehicles, imported as kits, are being built in the coastal city of Mombasa, creating jobs and reducing taxes.
Instead of operating its own fleet, BasiGo is selling buses directly to private operators in Nairobi through a "pay-as-you-drive" scheme. By doing this, buyers can buy a BYD electric bus for the same price as a diesel bus of the same size, says Bhattacharya.
As part of the deal, drivers get free bus servicing and maintenance and free charging. The charging infrastructure – which taps into the national grid – is being deployed along busy routes at stations where buses stop overnight. (Bhattacharya says the aim is to make the transition to electric "without any behavioral change" on the part of drivers.)
BasiGo's buses have a range of 250 km (155 miles) and recharge in four hours. Under the company's model, BasiGo retains ownership of the bus battery (equal to 40-50% of the vehicle's value), which means replacing the battery after eight years or 600,000 km (373,000 miles). Goes and old Bhattacharya says the battery is either given a second life in a non-vehicular application or recycled.
The startup says it has received more than 100 reservations so far. The goal is to have 100 buses on Nairobi's roads by the end of the year and 1,000 by the end of 2025.
Making electric a competitive option
Meanwhile, Rome is making plans of her own. The electric mobility startup formerly known as Opibus, an Earthshot Prize finalist in 2022, has two different bus models designed for Nairobi's needs.
The Rome Rapid can seat up to 90 people, has a range of over 360 km (224 mi) and is designed to carry passengers on routes such as major corridors and airport transfers.
The bus has undergone four pilot schemes and is currently being trialled on Thika Road, a major highway in the capital. Rome says it aims to have 10 Rapid models in personal use by the end of the year. It is awaiting the results of a government tender involving the city's upcoming BRT (Bus Rapid Transit) network, which could result in a contract for up to 100 buses.
"We feel we've developed a product that's cute and useful and workable," says project coordinator Dennis Wakaba — and with prices starting at $245,000, the Rapid is competitive with diesels of similar quality. Yes, he argues.
Rom Move is a small bus designed to compete with the traditional matatu market. Wakaba claims the bus will cost 20 Kenyan shillings ($0.16) per kilometer to run, compared with 50 to 60 shillings ($0.40 to $0.48) for the diesel equivalent. Through a financing model – the details of which are yet to be finalized – he says drivers can recoup the cost of the vehicle in four to five years. The Move is still in the prototype stage, but Rome plans to have 10 units completed by October.
Currently, charging is only available at Rome's workshop in the city, although Wakaba says permission has been granted to install publicly accessible chargers on Thika Road, and Rome plans for top-up charging during the day. Charging points are to be installed along the routes. Recharging overnight.
Head of product and strategy Albin Wilson is keen to differentiate Rome and its competitors.
"The biggest difference is that we design our products (ourselves)," he argues, tailoring battery size, bus size and other factors for the Kenyan market. "We're really working in a different vertical," Wilson emphasized.
the long view
Kost believes that while healthy competition in the private sector will ultimately benefit consumers, the public sector also needs to get involved. "It will not be enough to just convert vehicles to e-buses. We need to ensure that infrastructure and operations and regulations are improved at the same time," he says.
"The ideal arrangement is one where the government is investing in corridors, stations and depots, and then the private sector is able to bring capital to invest in buses," he adds.
"Nairobi will be a much more efficient city if we have a good public transport system that offers reliable, fast service," Coast concluded, with potential economic benefits that could encourage the government to get on board.
BasiGo and Roam are already setting their sights beyond Nairobi and Kenya. "We are really excited to take this model for scalable electrification of the public transport system to other markets," says Bhattacharya, naming Rwanda, Uganda, Tanzania and Ethiopia as potential countries for Basigo's expansion. Rome says it is seeking tenders for Rome Rapid in East Africa, and plans to roll out Rome Move across the region in late 2024.
Meanwhile, both companies are doing everything possible to win over city drivers and commuters for their products. Electrification may not spell the end of the matatu, after all. It could be an upgrade instead.
"We want to make these accessible to all people in the city of Nairobi. Rich, poor, "it doesn't matter," says Bhattacharya, "I think travelers, once they go and ( experience our buses), then they are not. Ready to go back."