Eric Adams says Lori Lightfoot's loss in Chicago is 'warning sign for the country'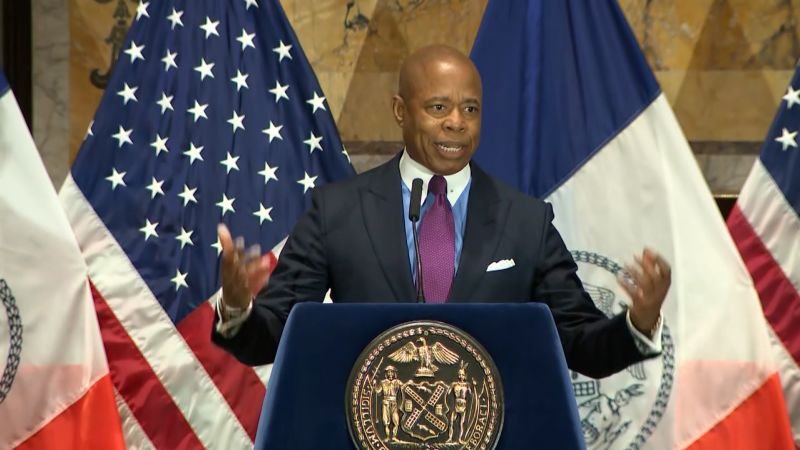 Washington
CNN
–

New York City Mayor Eric Adams on Sunday brushed aside suggestions that Chicago Mayor Lori Lightfoot's re-election loss was just a warning sign for Democratic mayors, instead calling it a "warning sign for the country at large." .
"I showed up at crime scenes. I knew what the New Yorkers were saying. And I saw it all over the country. I think, if anything, it's really telling that this is what I'm talking about. America, we have to be safe," Adams told CNN's Dana Bash on "State of the Union."
Adams was elected mayor in 2021 after a campaign focused on public safety and tackling rising crime.
Lightfoot, who was first elected in 2019, lost her re-election bid last week, failing to make one of the two runoff spots. Chicago is now the third major city in recent years with a mayoral election that has tested attitudes — among a heavily Democratic electorate — toward crime and policing.
Chicago sees an increase in violence in 2020 and 2021. And although shootings and homicides have declined since then, other crimes, including burglaries, carjackings, robberies and burglaries, have increased since last year, according to the Chicago Police Department's 2022 year-end report.
"Mayor, we are close. We're the closest to the problem," Adams said Sunday, calling public safety a "prerequisite to prosperity" in American cities. "We're focused on public safety because people want to be safe."
Adams was asked Sunday about criticism from some Democrats, who say his rhetoric on crime hurts the party and helps Republicans.
"The elections were clear. New Yorkers felt unsafe, and the numbers showed that they were unsafe," he told Bash. "Now, if we want to ignore the statement of the daily public, it is up to them. I'm on the subway. I walk in the streets I talk to working class people every day. And they were concerned about security. "
Adams also addressed the scrutiny that followed his remarks at an interfaith breakfast last week in which he said, "Don't tell me about separation of church and state. The kingdom is the body, the church is the heart. You take the heart out of the body, the body dies.
"What I believe," he said Sunday, "is that you cannot separate your faith. Government should not interfere with religion, and religion should not interfere with government. But I believe my faith drives me in how I govern and what I do.