France announces withdrawal of troops, ambassador from junta-controlled Niger after weeks of turmoil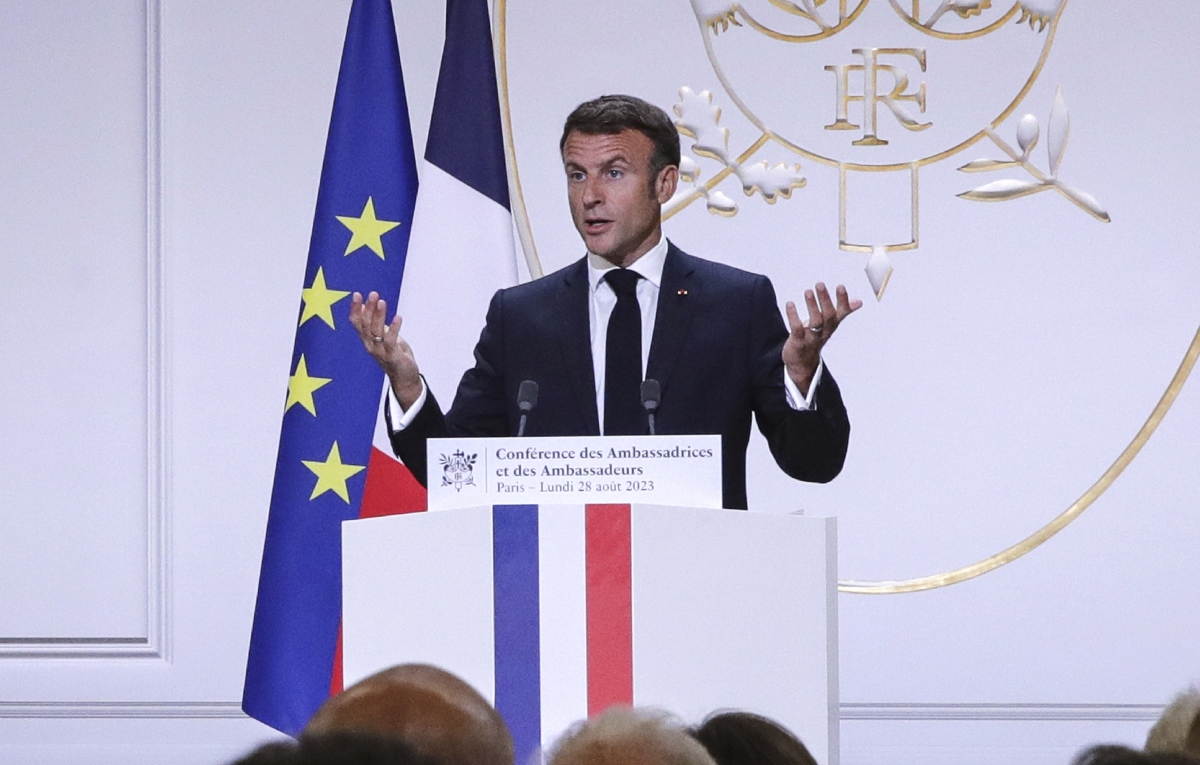 After putting up a defiant face to the military regime in Niger for several weeks post the military coup in July, France has finally relented as President Macron on Sunday announced the withdrawal of around 1,500 French troops from the country and pulled its ambassador from Niamey.
This came after tensions between France and Niger, a former French colony, reached a boiling point after the July coup, when Niamey severed military ties with the latter and closer the Nigerien airspace for French commercial and military planes.
France had repeatedly refused an order from the junta regime in Niger for its ambassador Sylvain Itte to leave the country, saying it does not recognise the coup leaders as legitimate and called for reinstatement of ousted President Mohamed Bazoum. Macron also alleged that French diplomats were surviving on military rations as they were 'held hostage' in the embassy.
"France has decided to bring back its ambassador, and in the coming hours our ambassador and several diplomats will return to France. And we will put an end to our military cooperation with the Niger authorities because they don't want to fight against terrorism anymore," said Macron after a discussion with Bazoum on Sunday. Bazoum reportedly told Macron to withdraw troops "to reduce tension", according to an aide of the deposed President.
The French troops will be pulled out from Niamey by the end of this year in coordination with the coup leaders to ensure a "peaceful" withdrawal, said Macron, who noted that France's military presence was deployed there in response to a request from Niger's government at the time.
France-Niger relations deteriorated sharply after the coup as anti-French protests erupted in the capital. The withdrawal of troops was expected, but is a significant blow to France's policy in Africa against Islamic extremist groups as French military personnel had to pull out from neighbouring countries Mali and Burkina Faso due to coups and anti-French sentiments.
Niger coup leaders celebrate withdrawal
In response to France's decision, Niger's military junta said that the announcement signals a "new step towards the sovereignty" of the country. "Imperialist and neo-colonialist forces are no longer welcome on our national territory. The new era of cooperation, based on mutual respect and sovereignty is already underway," said the junta in a statement.
However, the junta would continue to monitor developments with reservation after France's decision till the ambassador leaves the country, said Insa Garba Saidou, a local activist assisting Niger's military rulers with their communications, who also demanded a deadline of withdrawal of French troops.
"This announcement from the French president announces the victory of the people of Niger. However, we are going to take it with a lot of reservation because I no longer believe in Mr Macron," Saidou said.
The military junta ordered the French envoy to leave the country and gave him a 48-hour deadline, revoking his visa and instructing the police to expel him. However, Itte defied the order and chose to remain, as French authorities reiterated that they don't recognise the authority of the military regime.
Meanwhile, Niger remains heavily sanctioned by Western and regional African countries. The military government accused United Nations Secretary-General Antonio Guterres of obstructing the country's full participation of the 78th session of the UN General Assembly in New York to "appease France and its allies".
The Nigerien military has exploited grievances against former coloniser France and has severed military ties with the European country. It has also turned to Russia's mercenary group Wagner for help. On the other hand, France had earlier refused to acknowledge the authority of the military administration and said that it would respond if its military or diplomatic facilities in Niger are targeted.
Why are Nigeriens hostile towards France?
One of the major reasons for Niger's hostile stance towards France can be alluded towards the failure of security forces to eradicate the threat of Islamic terrorism in the region.
Notably, Niger is a major producer of uranium, a vital component of nuclear arsenals across the world. A majority of the uranium produced in Niger goes to European countries, especially France. 
Many people in Niger still believe that despite their independence in 1960, France has continued to act as an imperial power by robbing its resources and dictating its economic policies. Many citizens hold France to be responsible for the nation's current financial situation by exploiting their resources.
(with AP inputs)
ALSO READ | French envoy, diplomats 'being held hostage' in junta-ruled Niger, claims President Emmanuel Macron
Latest World News