From Kareena Kapoor to Karan Johar, the industry lauds Emmy award winner Ektaa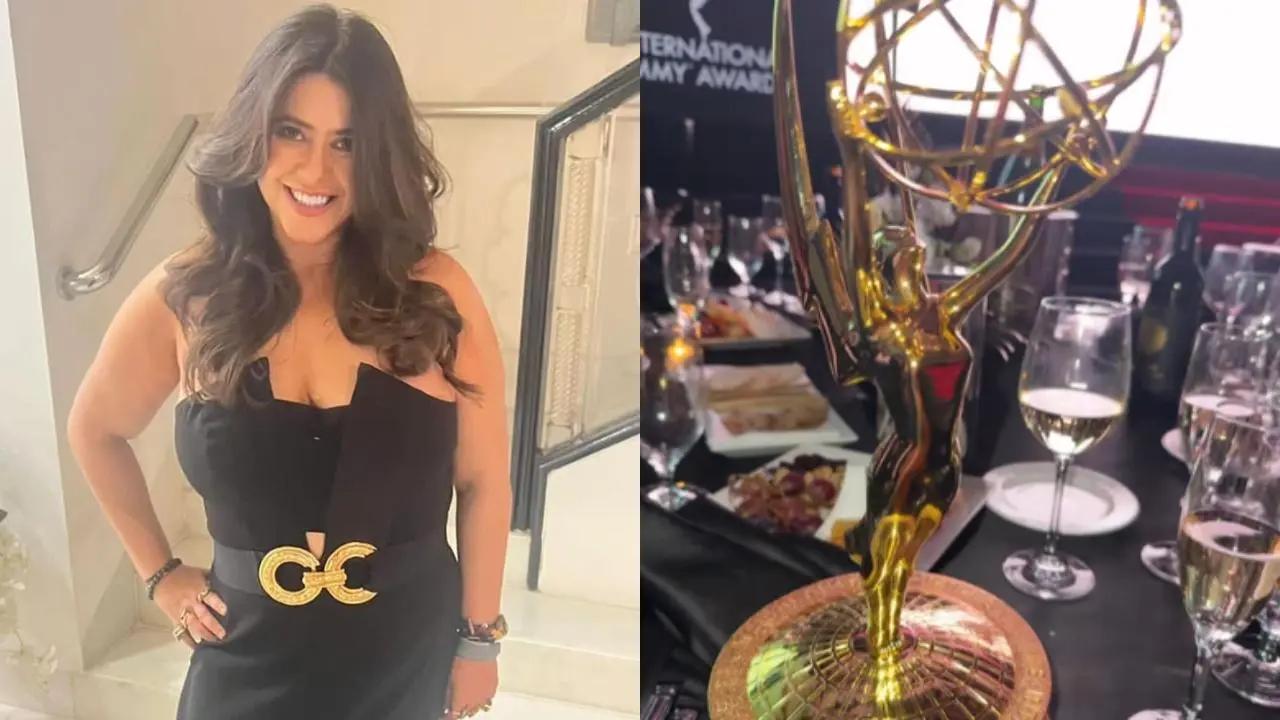 Ektaa Kapoor is breaking boundaries, and how! The filmmaker has added another feather to her cap by clinching a win at the International Emmy Awards 2023.
Ektaa Kapoor marked her attendance at the awards, where she was feted with the esteemed `International Emmy Directorate Award,` presented by the renowned author and new-age leader, Deepak Chopra. With this, Ektaa Kapoor became the first Indian woman filmmaker to receive the International Emmy Directorate Award, underscoring the uniqueness and impact of her contributions to the industry.
While her prestigious win has made the entire nation proud, as she became the only Indian female filmmaker to be awarded this honor, the filmmaker is receiving unanimous love and praise from every corner, not just from the masses. Various celebrities from the entertainment industry are also hailing Ektaa for her triumph on a global scale.
Karan Johar took to his Instagram stories and said, "Congratulations my darling @ektarkapoor ! For being such a trailblazer". Actress Kangana Ranaut extended her wishes to the filmmaker Ektaa R Kapoor by saying, "Congratulations Boss @EktaaRKapoor."
Calling Ektaa R. Kapoor the powerhouse, actress Kareena Kapoor Khan congratulated her, saying, "Congratulations you powerhouse! So proud of you, @ektarkapoor." Ekta Kapoor`s friend and filmmaker Rhea Kapoor called her best girl saying, "Congratulations to my partner and the best girl @ektarkapoor no one is more deserving! You`re a force!
Actor-producer Suniel Shetty wished Ektaa Kapoor saying, "Congratulations @EktaaRKapoor – you wrote history as the first Indian Woman to bring home the emmy!! So well deserved!! So proud!! Keep shining!"
Reflecting on this momentous achievement, the producer expressed her gratitude, stating, "I`m delighted to receive the prestigious Emmys Directorate Award! It brings me immense joy and happiness to be honoured at a global scale, such as this. I've always wanted to tell stories because they give me a chance to be heard, seen and represented. I am grateful for the audience`s love that has opened doors for me, allowing me to transition from television to the world of films and OTT. Each story that I told became a bridge to connect with audiences on many levels. The unexpected turns this journey took are a testament to the power of love showered by the people of India and beyond. My heart is filled with gratitude, and a stronger resolve to make a positive impact through my work for audiences."
Ektaa Kapoor is also the recipient of a Padma Shri. The filmmaker is known for her ability to push boundaries and deliver great content. Meanwhile, Ektaa R. Kapoor`s next offering for audiences is The Buckingham Murders, which stars Kareena Kapoor Khan and is directed by Hansal Mehta.