Google's AI is trying to one-up ChatGPT and Bing with new everyday AI features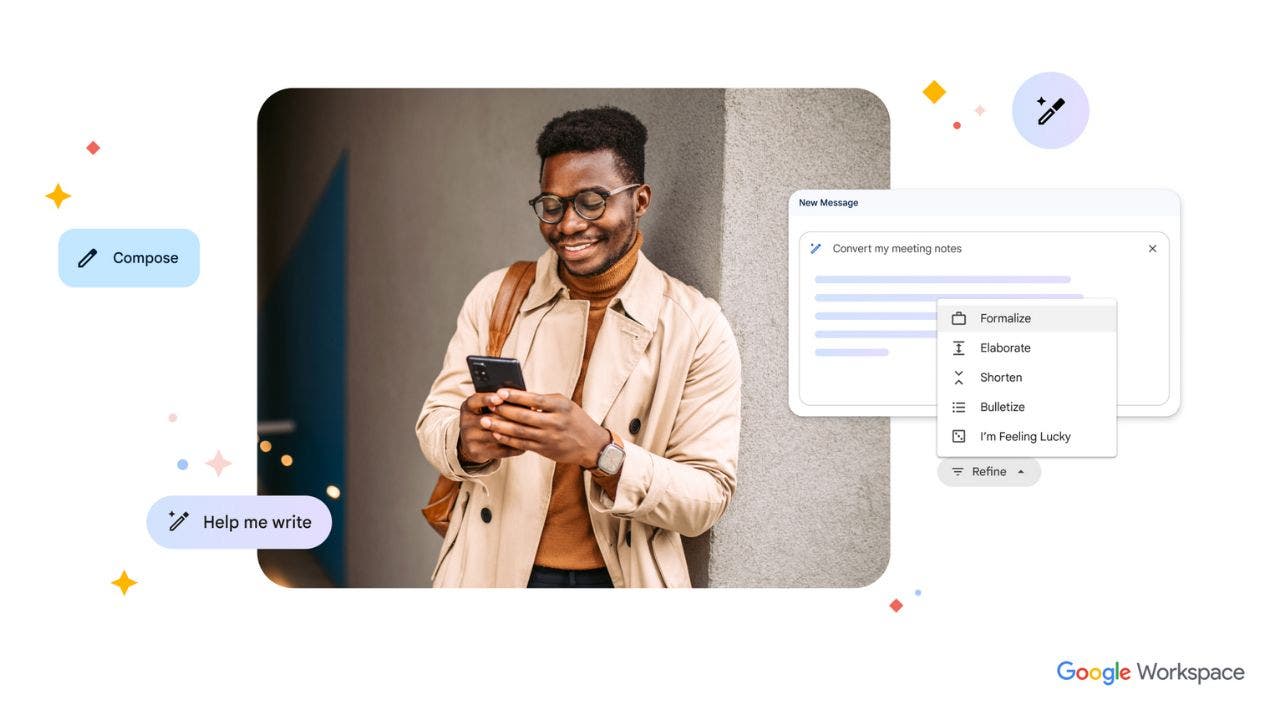 Many people are already using tools like OpenAI's ChatGPT generative AI chatbot and Bing, which also sources current information on the internet in its results, to help with various tasks, such as writing essays, creating images and more. 
Google is not far behind and has recently announced new generative AI experiences in Google Workspace that will allow you to create content with the help of AI.
CLICK TO GET KURT'S FREE CYBERGUY NEWSLETTER WITH SECURITY ALERTS, QUICK TIPS, TECH REVIEWS AND EASY HOW-TO'S TO MAKE YOU SMARTER
Credit: Google
How Google Duet AI and Google Workspace can boost your productivity and creativity
Google Duet AI is a new feature to help answer emails in Gmail, create images from texts, and proofread documents in Google Docs, to name a few skills. The goal is to catch up with tools like competitors Microsoft in creating tools that tap into AI for people to be productive. 
Google Workspace is a collection of collaboration tools where Google Cloud and Duet AI work together. Google Workspace aims to help people do their best work, from writing to creating images to accelerating workflows. 
How would you use Google Workspace? Some new features that Google Workspace offers with Duet AI are:
Smart Compose and Smart Reply in Gmail, which can help you draft and respond to emails faster and more efficiently
Smart Canvas in Docs, which can help you brainstorm, proofread, write and rewrite documents with suggestions and feedback from AI
Auto-generated images, audio and video in Slides, which can help you bring your creative vision to life with minimum effort
Google is also working on adding more generative AI features in Sheets, Meet and Chat
BEST WAYS TO BOOST YOUR INTERNET WIFI SIGNAL IN YOUR HOME
Who can use these new Google Workspace features?
Anyone who has a Google account and uses the Chrome browser can use these new Google Workspace features. You don't need to be a Google Workspace user to access them.
However, you do need to sign up as a trusted tester and agree to the Google Workspace Labs Privacy Notice and Terms of Service.
You can sign up by filling out a form and waiting for an invitation email from Google. Once you receive the email, you can enable the Workspace Labs features in your Chrome browser settings.
Keep in mind that these features are experimental and may change over time. Google also collects Workspace Labs data and metrics to provide, improve and develop products, services and machine learning technologies across Google. 
HOW TO GET DISCOUNTED HIGH-SPEED INTERNET AND START SAVING MONEY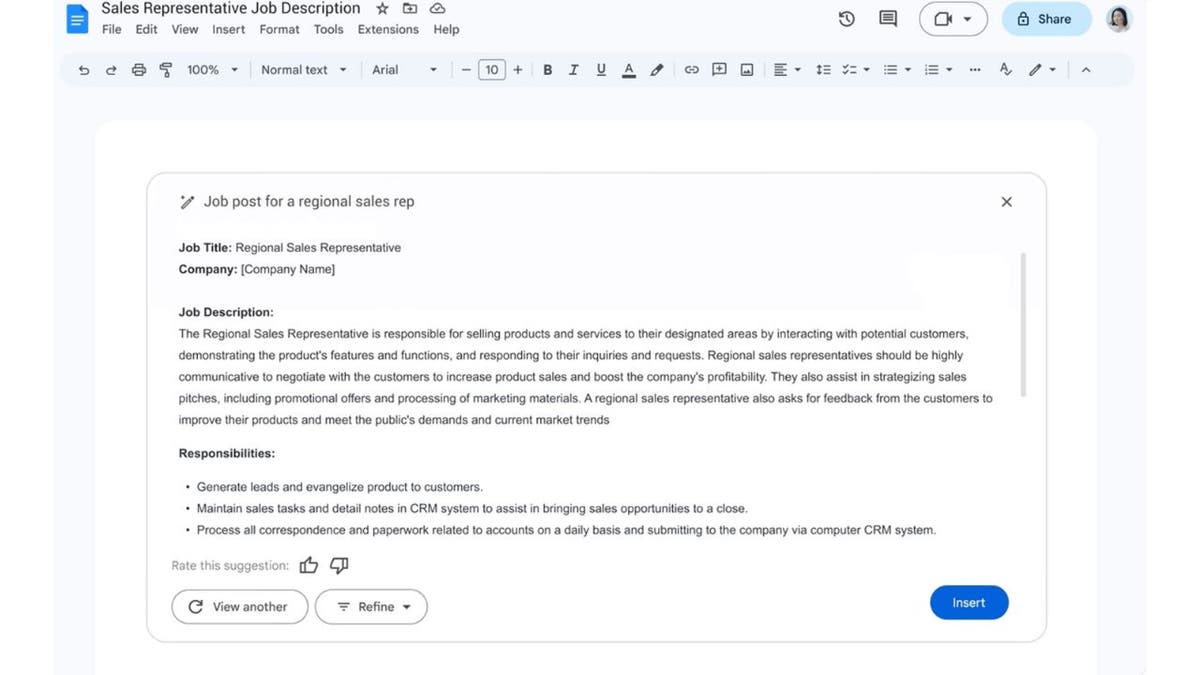 Credit: Google
MORE: LEADER OF THIS COUNTRY USES AN AI BOT TO TELL HIM WHAT VOTERS WANT
To check if you have access to Google Workspace features
After you sign up, check if you have access to Workspace features. Just open a document on Google Docs and look for Help me write (Labs), which will sit as a circular icon on the left of the document. 
You can also check your eligibility by opening Gmail:
Open Gmail and start to compose a new email.
You should see a "Help me write" button or icon in the bottom area of the email. Click it and follow the prompts.
GET MORE OF MY TECH TIPS & EASY VIDEO TUTORIALS WITH THE FREE CYBERGUY NEWSLETTER – CLICK HERE
What other AI-powered tools can we expect from Google?
Google announced at the 2023 I/O developer conference in May that it has some other AI-powered tools in store for consumers. They're really pushing for AI to start taking over and are developing a mountain of new features that people will be able to use in the coming months. 
Here's what we can expect:
AI wallpaper and chatbot for Androids
Google recently launched new AI wallpapers for Pixel users, powered by its generative AI technology. 
These wallpapers allow you to transform your photos into dynamic 3D scenes with different artistic styles or create your own unique backgrounds from emojis. 
You can also use the Material You feature to match the color palette of your Android system to your wallpaper.
Google is also integrating its AI chatbot Bard with Android's messaging app, so you can chat with Bard and get helpful information from Google apps and services within your conversations.
You can also customize Bard's tone and style to suit different contexts and audiences.
Chatbot answers for Google searching
Google also recently launched a major expansion of its Bard AI chatbot. It can now connect to various Google apps and services to provide more helpful and customized responses.
You can access Bard from the Google search homepage or from the Bard website and ask it anything you want. Bard uses its large language model to generate natural and conversational answers and shows you relevant info.
It'll be interesting to see how accurate the results are when searching with built-in AI.
GET MORE OF MY TECH TIPS & EASY VIDEO TUTORIALS WITH THE FREE CYBERGUY NEWSLETTER – CLICK HERE
Is all this AI going to be so helpful that it replaces human workers?
This technology will potentially help workers save time on tasks throughout the day, allowing employees to be more efficient with their work. It could also possibly help improve the quality of work being produced, as AI assistants are designed to help humans do better work.  Let's be honest, when your boss can find an AI machine capable of doing your job better, then machines will be kicking countless American jobs to the curb.
As things continue to rapidly evolve, when announcing this, Google made it clear that any suggestions that your AI assistant makes while you are working can be accepted, edited or changed, leaving you in control of what you're creating. They also stated that they will "…deliver the corresponding administrative controls so that organizations can police and set their own ways of using this new technology."
7 EFFECTIVE WAYS TO MAKE YOUR LIFE MORE SECURE AND PRIVATE ONLINE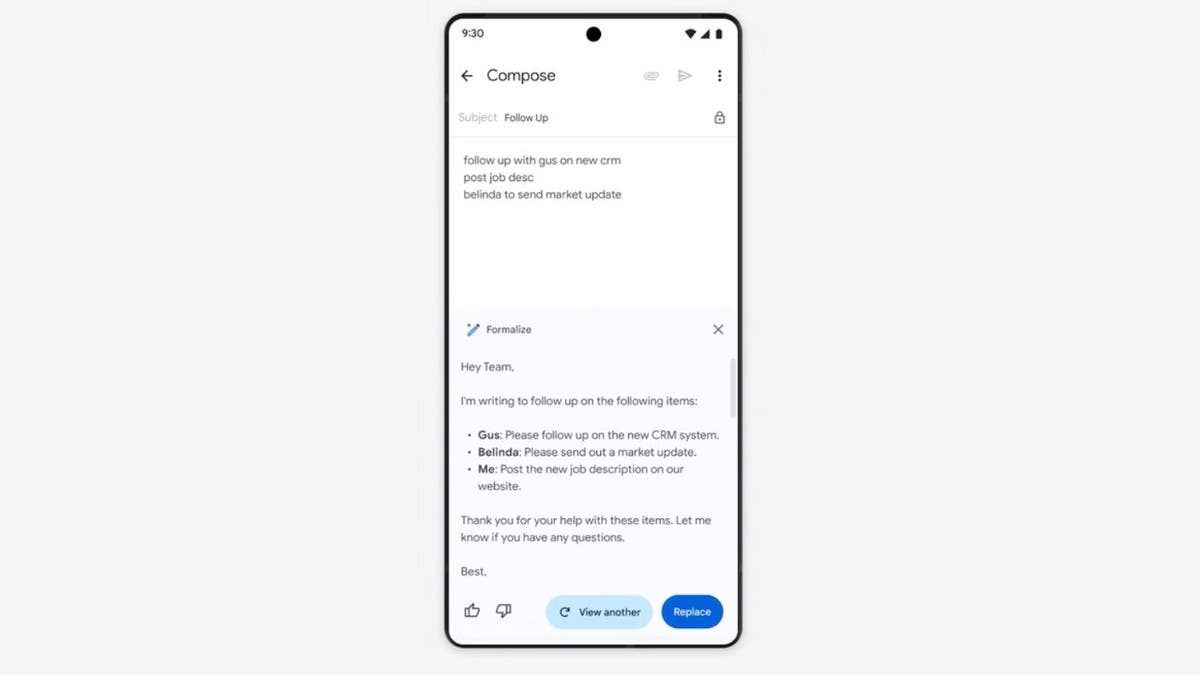 Google has been strongly promoting the message that this is a good thing for workspaces and saying that "AI is no replacement for the ingenuity, creativity and smarts of real people. Sometimes the AI gets things wrong, sometimes it delights you with something offbeat, and oftentimes it requires guidance," according to a statement from Google VP Johanna Voolich. So we'll have to see where it leads and trust that this will work for the better.
MORE: OPENAI AND FIGURE DEVELOP TERRIFYINGLY CREEPY HUMANOID ROBOTS FOR THE WORKFORCE 
Kurt's key takeaways
Google is making a lot of progress in developing and deploying generative AI tools that can help you communicate better and create amazing content in a full embrace of generative AI technology doing the heavy lifting for you.
If you are interested in trying these tools, you can sign up as a trusted tester and even give a piece of your mind in the form of feedback to Google.
You should also be aware of the potential risks and challenges that come with using AI. Always check the accuracy and quality of content generated by AI. Be sure to also read the privacy notice and terms of service carefully before using or signing up for them.
How do you feel about using AI to help you with your daily tasks? Do you think AI can improve your productivity and creativity, or do you have any concerns about its impact on your privacy and autonomy? Let us know by writing us at Cyberguy.com/Contact
CLICK HERE TO GET THE FOX NEWS APP
For more of my tech tips & security alerts, subscribe to my free CyberGuy Report Newsletter by heading to Cyberguy.com/Newsletter
Answers to the most asked CyberGuy questions:
Copyright 2023 CyberGuy.com.  All rights reserved.