Greta Thunberg has joined a protest against wind farms. Here's why.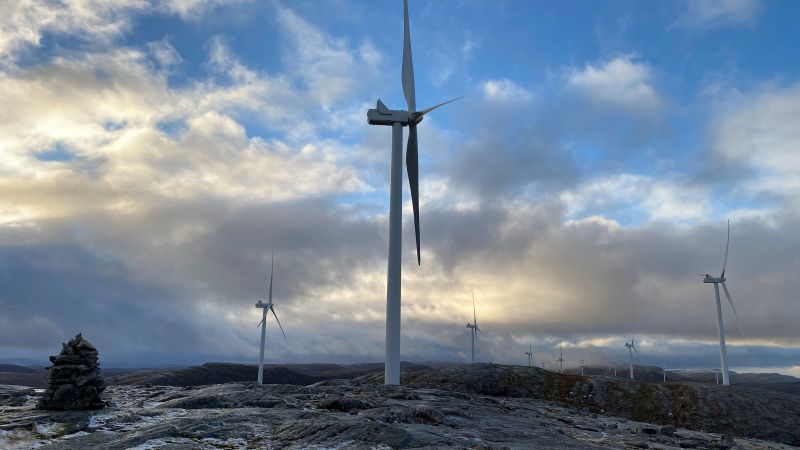 CNN
–

It might seem strange to see Greta Thunberg protesting wind turbines, but this week the Swedish climate activist joined indigenous and environmental groups in Norway.
Dozens of protesters, including Thunberg, blocked access to Norwegian government buildings in Oslo to protest two windfarms built on Sami reindeer grazing grounds.
On Wednesday morning, 10 people, including Thunberg, were removed by police from the entrance to the Finance Ministry, according to a spokesperson for the Oslo Police District.
The Sami people, the only recognized indigenous group within the European Union, say their centuries-old tradition of reindeer herding is threatened by wind farms in central Norway's Fossen region. Among the largest offshore windfarms in Europe, they remain 151 wind turbines which is 285 feet high.
"Construction is stealing reindeer grazing land," Maja Christine Jama, a reindeer herder and Sami politician, told CNN. Reindeer are also affected by the infrastructure surrounding the turbines, including roads, he said. "It upsets them a lot."
Jama and others are calling for the turbines to be torn down and reindeer grazing lands restored.
"Indigenous rights, human rights must go hand in hand with climate protection and climate action. It can't be at the expense of some people," Thunberg told Reuters on Monday.
The battle over wind turbines has been going on for a long time.
In October 2021, the Sami people won a legal victory. Norway's Supreme Court ruled that wind farm permits were invalid because the turbines Protected cultural rights violated of the Sami people for trespassing on reindeer grazing lands.
But nearly a year and a half later, the turbines are still operating.
"Until now, the government has not accepted the Supreme Court ruling on human rights violations or offered amnesty to the reindeer Sami," Erik Larsen, a political adviser to the Sami parliament in Norway, told CNN. on Tuesday.
That changed on Thursday when, amid ongoing protests, Petroleum and Energy Minister Terje Åsland apologized after talks with Sami representatives.
"In these talks, I apologized on behalf of the government to the reindeer herding districts in Fossen that the concession decision involved human rights violations," said Aasland.
"The government's message is clear and concise, we must follow the Supreme Court's decision to protect the rights of the reindeer herding Sami in Føssen," Åsland said on Thursday. "They have long been in a demanding and ambiguous position. I am sorry for that."
The Norwegian government said it was evaluating how to protect the rights of the Sami in Føssen. "The Supreme Court has recognized that the permits that have been granted are invalid, but this does not follow the decision that the wind turbines must be taken down," Elisabeth Säther, secretary of state at Norway's petroleum ministry, told CNN.
Sether added that the government is consulting with reindeer herders and the Sami parliament to find solutions "that make it possible for reindeer herders and wind turbines to operate side by side," Åsland echoed in his apology.
What's happening in Norway is part of a growing problem when it comes to green transition: how to implement climate policies without riding roughshod over indigenous rights and the environment.
Wind power is an important plank in Norway's green energy transition. The country's electricity generation is already almost entirely renewable. In 2020, More than 90% Its electricity was generated using hydropower and wind, which has increased 10-fold in the last decade, accounting for 6.5%.
Norway, which remains a major oil and gas producer, has pledged to reduce levels of global-warming pollution. Below 55% 1990 levels by 2030.
"But you cannot have a green transition that violates human rights or indigenous rights," Jama said. "These constructions threaten the way we live and engage in our culture as reindeer herders."
Jama calls what's happening "green colonialism," a term the Norwegian government told CNN was "misleading and inaccurate."
Steve Trent, CEO and founder of the Environmental Justice Foundation, told CNN: "The Sami did not cause the climate crisis, and their traditional way of life – which they have practiced for thousands of years – threatens efforts to solve it. should not be found in."
"Our efforts to reverse global warming must be equitable and fair," he added.
The Sámi people, whose traditional land – the Sámi – stretches across Sweden, Norway, Finland and the northern parts of Russia, already live there. On the frontline of the climate crisis.
The Arctic is warming four times faster than the rest of the world and temperature changes are making it harder for reindeer to feed, as increased rainfall means layers of snow freeze over their food.
"Indigenous peoples are asked to give up their lands for wind industry, mining and other purposes to save the world primarily from a crisis created by others," Larson said.