Holi 2023: PM Modi greets people as color festival celebrated with enthusiasm across country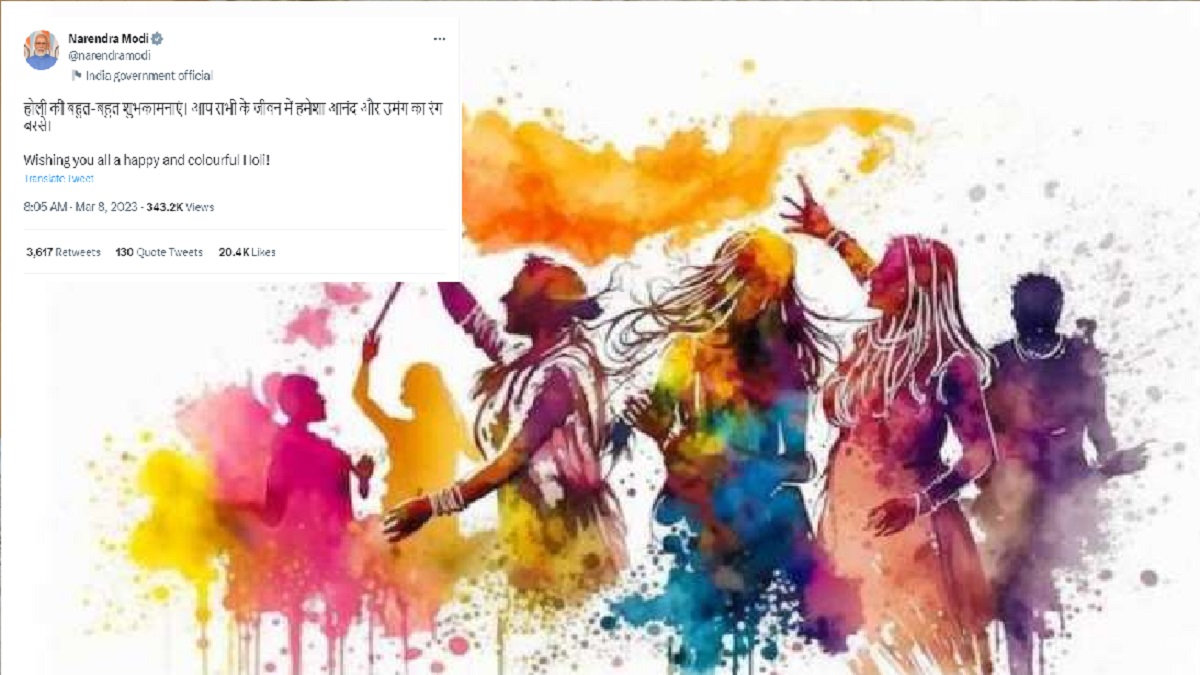 Festival of Holi: Prime Minister Narendra Modi on Wednesday greeted people as people across the country celebrated Holi, the festival of colours.
Prime Minister Modi tweeted, "Wishing you all a happy and colorful Holi! May your life always be filled with colors of joy and enthusiasm."
The festival of colors is being celebrated across the country. In every village and city, people were seen smearing gulal on their faces and splashing colored water. Residential societies organize Holi events with music.
Unique Holi in temples of UP


20 quintals of 'Tesu' flowers and 50 quintals of 'Gulal' of various colors are stocked at the Dawji temple in Uttar Pradesh's Baldeo region for a unique Holi celebration played by 'Bhabhis' and 'Devars' – sisters and brothers-in-law.
In the celebration, women representing 'Bhabhis' and "Bharjai" play what is locally known as "Huranga". Women beat men with wet cotton cloth.
"This unique Holi will be played inside the Dauji temple on Thursday. Lord Krishna used to play this Holi with Revathi (Krishna's brother Baldev's wife)," temple priest Govind Pandey told PTI.
"The men dye the women with tesu dye, while the women try to protect their new clothes from getting damaged. In the spirit of the festival, the women also tear the men's clothes and use them as whips," he said.
One man sits on a high platform in the temple as Lord Krishna and the other as his elder brother, and watches the celebrations with the folk song 'Aaj Biraj Main Holi Re Rasya' playing in the background.
Before the 'huranga' begins, devotional music is played for an hour before the deity to seek permission for the festival to continue, the priest said.
"20 quintals of 'tesu' flowers, 50 quintals of 'gulal' (color powder), 50 quintals of different colors, 5 quintals of phtri, 10 quintals of lime and five quintals of saffron color have been procured," Pandey said. said
Twenty quintals of rose and marigold petals were also ordered. District Magistrate Pulkit Khare said that all security arrangements have been made for the day. He said that police personnel in plain clothes would be deployed to prevent hooliganism and any kind of abuse of women.
(with PTI input)
Also Read-Happy Holi 2023: Wishes for Your Loved Ones, SMS, HD Images, Wallpapers, WhatsApp and Facebook Status
Latest news from India