How one Ukrainian girl vanished without a trace at the start of the war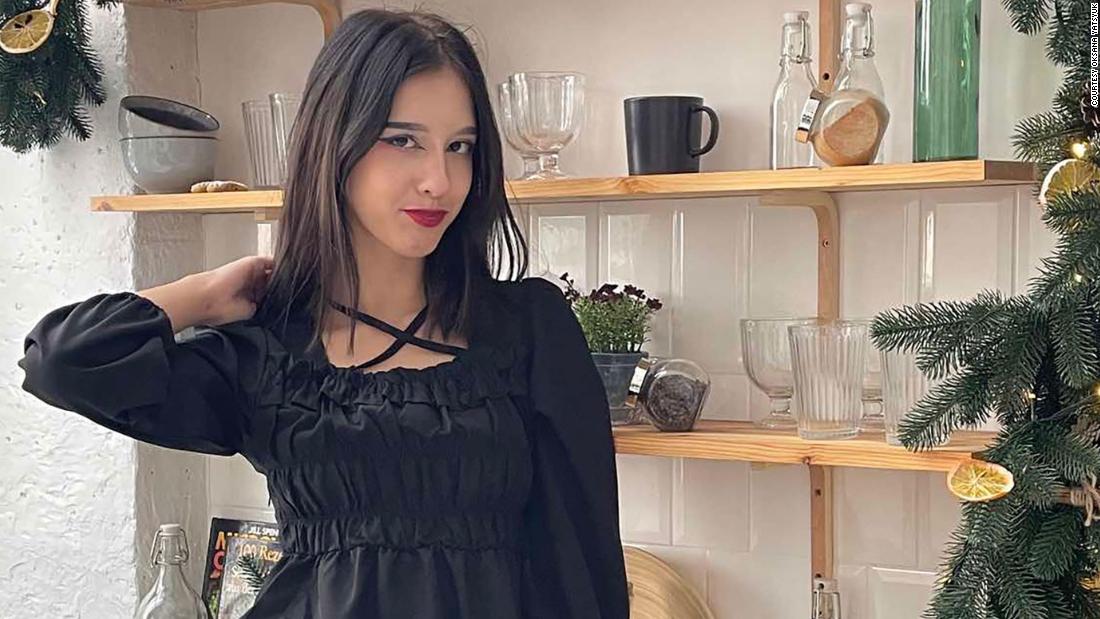 The soldiers started shooting, then dragged Arina and her 9-year-old sister Valeria out of the back seat. Arina was wounded and put into one car; Valeria was ushered into another.
Valeria was taken to a nearby village, where locals found her standing by the road. Denys and Anna, the girls' parents, were discovered shot dead in their car.
Arina's aunt, Oksana Yatsiuk, told CNN the family has been searching for the girl with deep brown eyes and braces ever since she disappeared. Arina is good at drawing and loves make-up and traveling, her aunt said.
"She had big dreams, but the 'Russian liberators' decided everything for her. When we find her, we will carry on with her plans," she said.
The family said they believe the girl, who is now 16, is still alive and "held captive" in Russia.
"I sent official letters to all of the medical facilities, to the Ministry of Health in Russia, Belarus and Ukraine and the official answer I received is that she has not been registered anywhere," Yatsiuk told CNN in a phone interview.
Yatsiuk, who is based in Poland, said she believes Arina had no documents on her when she went missing, which is perhaps why she hasn't been officially registered anywhere.
"I received an official reply that Arina was not recorded crossing the border," she said.
The family has been combing through social media groups, reaching out to groups of displaced people and working with volunteers in Russia and Belarus.
Yatsiuk said Arina's DNA is also regularly checked against the national registers. "She is not on the official lists of dead," she said.
A Russian volunteer who is helping with the search said they believe Arina was taken to a medical facility in Russia and has remained in the country ever since.
The volunteer, who spoke to CNN on the condition of anonymity because their involvement in the search could threaten their safety, said there have been no new leads on the case since the fall.
'War crime' witness
"She is a witness of war crime. If her younger sister didn't understand that her parents were killed, I suppose that she understood, she herself was wounded and is also a victim of a war crime," Lypovetska told CNN in an interview at Magnolia's office in Kyiv.
Magnolia has received more than 2,600 requests from families and friends of missing children since the start of the full-scale war in February 2022, more than the total number of calls it got over the previous 20 years.
Its 18 employees work round the clock. They are in touch with the families of missing children, offering psychological and legal help. The group is also conducting its own searches using open-source intelligence techniques, public appeals and social media sleuthing to gather information.
Most of the calls coming in are about children from Ukraine's occupied territories or areas hit by heavy fighting.
"Before the war, most cases were runaways, but now, most are directly connected to military actions," Lypovetska said, adding that in the early days of the war, the majority of calls were from desperate families who had lost contact with loved ones in occupied areas.
But a few weeks into the conflict, Magnolia started receiving more calls about children who have been separated from their families during attacks or went missing during evacuations, she said.
And it soon became obvious that some of these children had been sent to Russia.
Public boasts
Under international agreements, including the Rome Statute of the International Criminal Court, the deportation of a civilian population is considered a war crime and forcible transfers of children of one group to another group amount to genocide.
But Russia has been brazenly open about its actions.
Over the past year, numerous Russian officials have publicly boasted about bringing Ukrainian children into the country. According to their statements, hundreds of children from occupied areas have been deported to far-flung places in Russia, where some have been promptly adopted by local families and given citizenship.
A small group of children described by officials as having been rescued from the Donbas was paraded in front of tens of thousands of people during a rally in Moscow last month. The children were encouraged to hug a uniformed man whom one of the girls referred to as "Uncle Yuri" who "saved" them from Mariupol.
CNN has asked the office of Russia's Commissioner for Children's Rights, Maria Lvova-Belova, for comment on the allegations. It received a generic acknowledgement of receipt, but no reply.
Russian officials and pro-Russian separatists began deporting Ukrainian children across the border to Russia days before Moscow launched its attack on Ukraine. The leaders of the Russian-backed, self-declared Donetsk and Luhansk People's Republics (DPR and LPR) in eastern Ukraine ordered mass evacuations of civilians to Russia on February 18.
Volodymyr Sahaidak, the director of a boarding school in Stepanivka, a settlement outside of Kherson, has first-hand experience of Russia's efforts to take away children. The school was home to orphans and children whose families weren't able to care for them, as well as children from families in difficult socio-economic circumstances.
When Russian troops rolled into the southern Ukrainian city in early March 2022, Sahaidak decided he needed to hide his wards from the invaders.
"My biggest fear was that children would be taken to Russia, because I've seen what was happening in Donetsk and Luhansk regions during these eight years of war," he told CNN in a phone interview. "I've seen children being taken to Russia. So I was worried they would be taken and brainwashed to 'defend' Russia."
He said that children who had relatives able to take care of them were sent away, while those who didn't were taken in by the staff of the school.
Sahaidak said the school was repeatedly raided by Russian troops and officials in early June.
"They took all the personal files, they took all the hard drives, broke all the monitors, all the CCTV cameras, and took all the Ukrainian history books and a few others that they did not like," he said.
While he managed to protect the 52 children he had under his guardianship, all between the ages of three and 18 years, he said a separate group of children that had been evacuated to the school from the Mykolaiv region was taken away by Russian troops.
Sahaidak told CNN he managed to reach the head of the Mykolaiv school, who told him the group had been taken — against her will — to the Black Sea town of Anapa in Russia. According to Sahaidak, volunteers later helped the group to escape to Georgia. As of February, the children were still there, he said.
Russia's 'rescued orphan' claims disputed
The exact number of unaccompanied children who have been taken to Russia is unclear.
A spokesperson for Ukraine's children's rights commissioner, Daria Herasymchuk, told CNN that as of February 23, 2023, at least 16,221 children had been forcibly deported. However, the spokesperson added, that number includes only the children Ukrainian officials know about. Many more may be in Russia without anyone being aware of their presence.
Ukrainian Prosecutor General Andrii Kostin said last week that Ukraine managed to secure the return of 307 children so far. "To do more, we need the help of the international community," he said during a meeting with the Council of Europe's Commissioner for Human Rights Dunja Mijatović.
Russian officials have not responded to CNN's questions about the number of children brought to Russia by people other than family members. Statements issued throughout the year make it clear the numbers go into the thousands.
According to statements from Russian regional officials, 400 children were sent to a facility in Rostov-on-Don, near the border between Russia and occupied Ukraine, in the first days of the war.
In April, the office of Lvova-Belova, the Russian Commissioner for Children's Rights, said that around 600 children from Ukraine had been placed in orphanages in Kursk and Nizhny Novgorod before being sent to live with families in the Moscow region.
As of mid-October, 800 children from Ukraine's eastern Donbas area were living in the Moscow region, many with families, according to the Moscow regional governor.
Some of the children have ended up thousands of miles and several time zones away from Ukraine. According to Lvova-Belova's office, Ukrainian kids have been sent to live in institutions and with foster families in 19 different Russian regions, including Novosibirsk, Omsk and Tyumen regions in Siberia and Murmansk in the Arctic.
Lvova-Belova herself adopted a 15-year-old boy from Mariupol, according to official statements.
In the same meeting, she said that placing Donbas children into Russian families was the "favorite part of my work."
Russian officials often claim that the children put up for adoption are orphans rescued from war-torn regions. But according to Ukrainian authorities, many of the children have relatives who want to take care of them in Ukraine.
Last fall, a desperate father from Kharkiv called the Magnolia NGO. The man's wife had been killed while attempting to flee the fighting and the whereabouts of their 10-year-old son were unknown — until the father saw a video of his boy on a Russian TV program.
"And in the video they showed the boy's face and said, 'we saved this poor Ukrainian boy, an orphan, and we took him to a hospital in Luhansk,'" Lypovetska, from Magnolia, told CNN.
It took more than two months to reunite the father with his son, Lypovetska said. The NGO and Ukrainian authorities engaged a network of Ukrainian and Russian volunteers, along with lawyers, all trying to confirm the boy's location and negotiate his return.
The boy was eventually found in Russian-occupied Luhansk. His father was unable to travel to the region because he wouldn't be allowed to leave the area and would be at risk of being forced to fight for the separatists, so it was up to the boy's grandmothers to make the long, treacherous journey.
"It's impossible to go to Luhansk from Ukraine, so they had to make a big circle through Russia, cross the border, then back through Russia to Europe, and only then back to Ukraine," Lypovetska said.
Russification program
Russia is open about its efforts to "Russify" the children brought from Ukraine.
But the Russification efforts go well beyond citizenship ceremonies.
Russian officials often talk about Ukrainian children receiving Russian citizenship and taking part in nationalistic activities, camps and excursions, as well as being sent to "patriotic" schools.
Several children from the separatist-run regions in eastern Ukraine were also among a group of almost 200 youngsters who attended a "military-patriotic camp for difficult teenagers" in Chechnya over the summer. The program was organized by Lvova-Belova and Chechen leader Ramzan Kadyrov, according to official statements issued by their offices.
The US State Department-backed Conflict Observatory, run by the Yale Humanitarian Research Lab, released a report last month detailing what it said was a network of at least 43 camps across Russia where thousands of Ukrainian children have been held since the war started last February.
CNN obtained a voice message sent by 16-year-old Serhiy to his mother in Ukraine from one of the camps. In it, he said: "My friends and I were forced to sing the Russian anthem, but we didn't sing it. We got no reaction because they didn't see us. We have to sing the Russian anthem during every day's morning exercises." CNN is not disclosing his last name for security reasons.
One of the authors of the Yale report, Nathaniel Raymond, said the "primary purpose of the camps appears to be political re-education."
"At least 32 of the facilities identified [in the report] appear to be engaged in systematic re-education efforts that expose children from Ukraine to Russia-centric academic, cultural, patriotic, and in two cases, specifically military education," he said at a news conference.
The report found that found that more than 6,000 children — ranging in age from mere months old to 17 — have been in Russian custody at some point during the course of the year-long war, although the "total number of children is not known and is likely significantly higher than 6,000."
Friday marked the first anniversary of Arina Yatsiuk's disappearance.
Her younger sister Valeria has been formally adopted by her aunt and uncle. Oksana Yatsiuk, the aunt, told CNN the little girl was receiving psychological support and was slowly coming to terms with the horrible reality that her parents were murdered.
"She keeps asking about her sister, worries about her and is waiting for her," she said.
"We all believe she is alive and we will soon find her. We are considering all options, including that she might have already been adopted," she added.
The pain of the Yatsiuk family is a stark contrast with the propaganda repeatedly pushed out by Russian officials, including Lvova-Belova.
At one public event, the ombudsman described feeling "patriotic" about Russian families adopting children from the occupied regions of Ukraine.
"Isn't this unity, isn't this the patriotic feeling when there is no such thing as other people's children and that all of them are ours now?" she said, according to an official statement.
CNN's Tim Lister, Olga Voitovych, David McKenzie, Victoria Butenko, Anna Chernova and Zahra Ullah contributed to this report.