How to easily connect headphones to your TV for great sound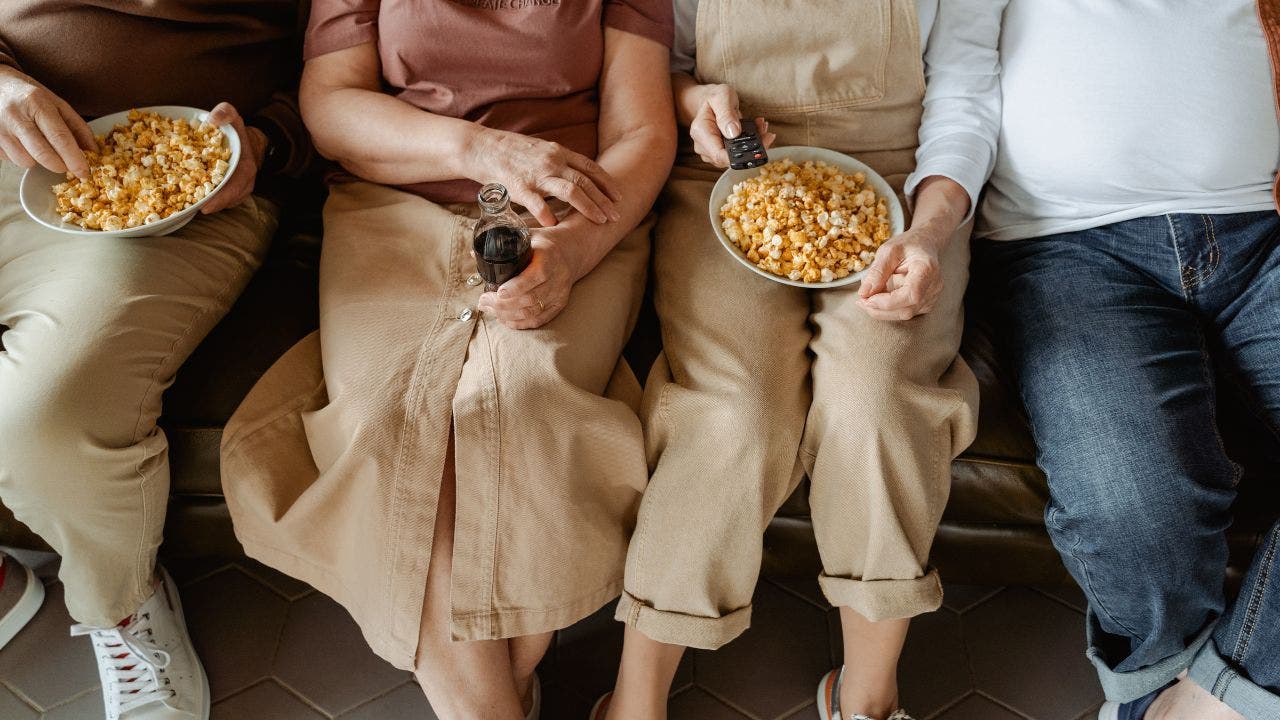 Do you have trouble hearing your TV and you don't want to disturb others in the room? If so, you're not alone. Many people, including Martha from Baton Rouge, Louisiana, want to know how to connect wireless headphones to a TV.
"I am searching for Bluetooth earbuds or AirPods for my elderly mom who is hard of hearing. I need her to be able to connect the wireless earbuds to the smart TV but still have sound from the TV speaker for my father in the room. I would greatly appreciate any suggestions. I have been searching but am overwhelmed with everything out there. Thank you!"
Martha, Baton Rouge, LA
This is a great question, and it is possible to connect your wireless headphones to your TV when you have either a Bluetooth-capable TV or a headphone audio jack on your set. It's up to your TV if it will also allow sound on the TV speakers simultaneously with headsets. Most TVs let you do one or the other, seldom both. Here's how to get sound from your TV into headsets without missing another word of dialogue in your favorite show or movie.
CLICK TO GET KURT'S FREE CYBERGUY NEWSLETTER WITH SECURITY ALERTS, QUICK TIPS, TECH REVIEWS AND EASY HOW-TO'S TO MAKE YOU SMARTER
How to enjoy sound on your TV and headphones at the same time
Having sound come through both your headphones and the TV speakers is going to depend on the type of TV and headphones you have and what features they offer in the settings. A vast majority of TVs allow either one or the other, but not both. But, the best way to find this out is to first refer to your TV's manual or explore the audio settings on your TV with your remote control. Either way, I am on a mission to get you squared away with hearing your TV the best way possible.
GOOGLE'S AI IS TRYING TO ONE-UP CHATGPT AND BING WITH NEW EVERYDAY AI FEATURES
Use wireless headphones to connect to a TV with Bluetooth audio output
In the case that Martha is presenting above for wireless headphones, you would need to have a TV that supports Bluetooth audio output. When I tried it on my run-of-the-mill LG LED TV, it worked within two minutes on my first try. Bluetooth headphones paired with a TV will send the audio wirelessly to the headsets.
BEST WAYS TO BOOST YOUR INTERNET WIFI SIGNAL IN YOUR HOME
Use dedicated TV headphones 
Another option is to use dedicated TV headphones that use a base station that plugs into the TV's audio output. These headphones can send the TV sound wirelessly to the person's ears while also allowing the TV speaker to play sound for others in the room. These are fine, yet your best bet is simply to invest in a good pair of noise-canceling headsets with good battery life.
Get my picks for noise-cancelling best headphones.
HOW TO GET DISCOUNTED HIGH-SPEED INTERNET AND START SAVING MONEY
How can I connect Bluetooth headphones to my TV?
This, again, is going to depend on your TV model and what settings are on it. Many TVs can connect to Bluetooth headphones by following steps similar to what I outlined below.
Go to the Settings menu on your TV
Look for an Accessories menu or any menu that has a Bluetooth device connectivity option
Have your headphones on and ready to connect to your TV
The name of your headphones should come up on your TV screen when they're ready to connect
Select your headphones and wait for the connection to be made
If your TV allows more than one output at a time for sound, the next setting you'll want to address is selecting both Bluetooth and the internal TV speaker if your set will let both happen simultaneously. Otherwise, skip this step.
GET MORE OF MY TECH TIPS & EASY VIDEO TUTORIALS WITH THE FREE CYBERGUY NEWSLETTER – CLICK HERE
What are some good options for wireless Bluetooth headphones?
There are many great options out there when it comes to quality headphones that can connect wirelessly to your TV. I've narrowed it down to these few top choices that have some excellent features. Just be aware that not every TV may accept these headphones, so make sure you know what your TV allows before purchasing a pair.
Get my picks for noise-cancelling best headphones.
7 EFFECTIVE WAYS TO MAKE YOUR LIFE MORE SECURE AND PRIVATE ONLINE
Kurt's key takeaways
The struggle to hear the TV without disturbing those around you is a common challenge. But fear not. You're not alone in this dilemma. Connecting wireless headphones to the TV while keeping the sound flowing from the TV speakers is absolutely possible, provided your TV and headphones have the right features. It's all about finding the right settings on your TV and the best part is that I've outlined how to make it all work for you.
Should every TV now come with capabilities for connecting headphones? Let us know by writing us at Cyberguy.com/Contact.
For more of my tech tips and security alerts, subscribe to my free CyberGuy Report Newsletter by heading to Cyberguy.com/Newsletter.
CLICK HERE TO GET THE FOX NEWS APP
Answers to the most asked CyberGuy questions:
Copyright 2023 CyberGuy.com. All rights reserved.