Inside the Palestinian town that far-right Israeli minister wants 'erased'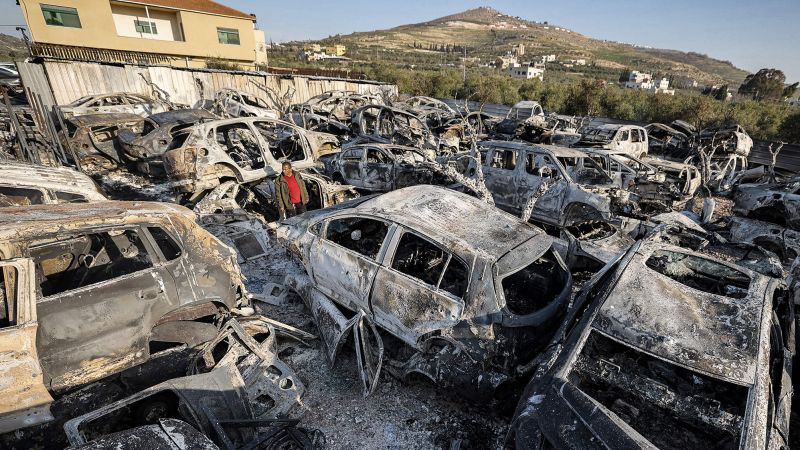 Editor's Note: A version of this story first appeared in CNN's Meanwhile Middle East newsletter, a three-week look at the region's biggest stories. Sign up here.

Huwara, West Bank and Jerusalem
CNN
–

A burning smell lingers in the air of Huwara.
Broken glass is still littering people's property. A ten-year-old boy shoots a spent Israeli military stun grenade, explaining that he knows it is safe because the string that activates it is gone.
The gray and black bodies of burned cars are a stark reminder of the worst Israeli settler violence these Palestinian villagers say they have ever experienced.
Just south of Nablus in the occupied West Bank, the city has long been a flashpoint for Israeli-Palestinian violence. Part of the reason is that it straddles one of the main roadways, Route 60, which is used by Israeli settlers and Palestinians alike. It is also surrounded on three sides by Israeli Jewish settlements known for being very nationalistic.
It is here that two Israeli brothers were shot dead at point blank range on Sunday as they sat in traffic. The person or persons responsible are yet to be identified.
It is here that, hours later, dozens of settlers went on a rampage in what one of Israel's top military generals later called a "pogrom," killing one Palestinian man and injuring others.
Huwara resident Nahwand Damidi's house is behind a metal fence to protect it from attacks by residents. But the violence reached another level Sunday night, he told CNN on Thursday.
"[The settlers] Usually they attack us by throwing stones. If we try to defend ourselves they will use weapons, but last time was different. Everywhere you looked there were bullets… fire everywhere, fire," she said, standing on her balcony.
Security camera footage residents shared with CNN shows residents — identified by their religious tassels, called tzittit, dangling from under their sweatshirts — found the flammable material in front of 75-year-old Nawal Dumedi's door. Before setting it on fire, before setting it on fire.
Dumedi said the double doors bore black marks from the flames that literally melted the lock. She told CNN that her two sons had to come back from Dubai to open the door and free her.
"What happened is a wild terrorism," she said, adding that she was trapped in her home for three days before being able to leave.
Villagers told CNN that they usually expect the Israeli army to protect them from attacks by settlers, but on Sunday they did not. The top Israeli general in the West Bank, Major General Yehuda Fuchs, admitted earlier this week that the IDF was unprepared for the scale of settler violence against Palestinians and took responsibility for not controlling it.
Many Israelis go to Huwara to get their cars repaired – with prices being much cheaper than on the other side of the Green Line. The Abu Sarris family owns one of those repair shops – but now dozens of their cars have been burnt.
Daughter Lamar, 10, speaks confidently and openly about what happened – she has already given several media interviews.
But she also doesn't want to sleep in her room anymore. His window was broken when residents threw stones at it.
"Mom hid us in her room and went up to the roof to see what was going on. We heard them breaking the windows of the house. We didn't do anything to them," she says, her seven-year-old brother Jod and two-year-old sister Siver sitting next to her.
Sivar, dressed in yellow Pokémon, hears a noise outside and says "beep, fire".
"The biggest crime they did to us was not the business and the cars, but our scared and traumatized children," says their mother, Hana. "Look at [Siwar]She is only afraid of hearing a random sound downstairs. "
Hana says that as residents burned their cars and fired three shots at the house, they shouted, "Death to the Arabs, we will wipe out Huwara."
Three days after the settlers tried to do exactly that, far-right Israeli Finance Minister Bezalel Smotrich, himself a settler leader, repeated the phrase on stage at a media conference.
"I think the village of Huwara needs to be wiped out," he told a journalist at a conference run by the Israeli business magazine The Marker. "I think the state of Israel needs to do that, not — God forbid — private citizens."
The inflammatory comments drew a strong and swift rebuke from the US State Department, which called them "abhorrent" and "disgusting". Even Israel's ambassador to the US, Michael Herzog, called it "against our values".
And although Israeli Prime Minister Benjamin Netanyahu has said he does not accept such violence and has called on Israelis not to take the law "into their own hands" in the wake of the violence, he has so far condemned Smotrich's comments.
Many Israelis resent the violence in Huwara, seeing it as a natural consequence of the most right-wing and pro-settler government in Israeli history.
On Friday, Israeli soldiers intervened in Huwara to prevent dozens of Israelis from demonstrating in support of the villagers.
The town has been declared a closed military zone in the wake of the violence, specifically with the aim of keeping the sides apart and de-escalating the situation.
Meanwhile, a campaign launched by leftist activist Yair "Yaya" Fink to raise funds for the residents has raised more than 1.7 million shekels (about $500,000).
"As a religious person, a Zionist, a major [in the military] And as an individual, I cannot remain silent while my comrades are burning villages," Fink tweeted the day after the uproar.
Fink says she has received death threats and spam calls and texts because of her campaign. But he tweeted that he would continue: "Anyone who thinks this or threats to my life will break me doesn't know me, just another motivation to fight against terrorist anarchists."
And Huwara has also become a rallying cry during protests against the Israeli government's sweeping judicial reforms. As border police clashed with protesters in Tel Aviv on Wednesday, many chanted "Where were you in Huwara?"