Israeli-Palestinian tensions: US citizen killed in West Bank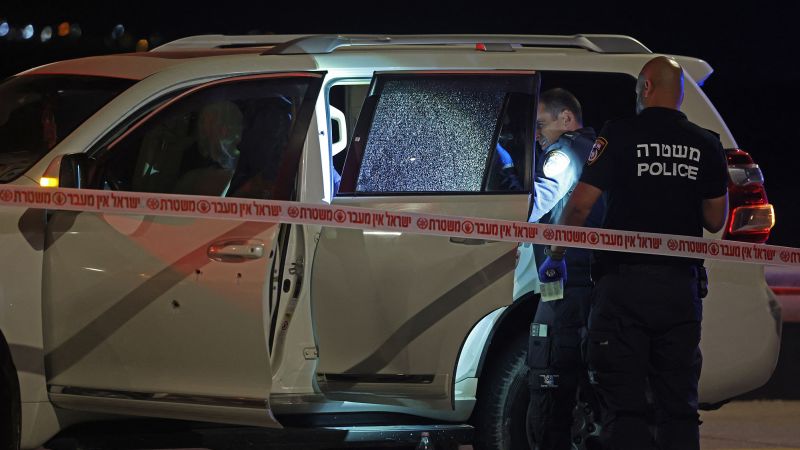 Jerusalem
CNN
–

An Israeli-American citizen died in the occupied West Bank as tensions continue to rise in the region after a weekend of violence.
In what Israel's Magen David Adom (MDA) emergency service described as a "terrorist attack" on a highway between Jericho and the Dead Sea, 27-year-old Alan Ganeles was shot dead on Monday evening.
The attack took place on Route 90 north of Beit Haarawa junction, the MDA said. The location is generally peaceful and is one of the main routes for Israelis to visit the Dead Sea.
Ganeles had traveled to Israel for a friend's wedding and lived in the United States, his friends told CNN on Tuesday. His synagogue in Connecticut said he will be buried in Israel on Wednesday.
Steve Charter, host of Gannels, a Hebrew language program, told CNN on Tuesday that Gannels was "a really nice guy, a gentleman … the kind of guy you want your daughter to date." Ganels attended a five-month course at Kibbutz Sade Eliyahu in 2015 before joining the Israeli army, Charter said.
After completing his military service, he returned to the United States to study at Columbia University, Charter said.
"He wanted to celebrate his friend's wedding, see his friends and go back to America," said Michael Landau, Ganeles' friend from the Hebrew program. "He was visiting a friend when he was murdered."
Landau said Ganels was aware of the security situation in Israel and the West Bank but did not appear concerned about it. "He's lived here in the past so he understands the situation," Landau said. "He never expressed any concern about the fact that something was going on."
The US State Department confirmed the death of an Israeli-American citizen, and said it was "deeply concerned by the events of this weekend and the continued violence in Israel and the West Bank."
After the death of Gennelus, A Crowds of Israeli settlers A rampage broke out Sunday in Huwara, south of Nablus in the Israeli-occupied West Bank, in which one Palestinian was killed, another was beaten with metal bars and a Palestinian fire engine was stoned after several houses were burned. was killed
The attacks followed Sunday's fatal shooting of two Israeli brothers in Huwara, days after at least 11 Palestinians were killed in a major Israeli military raid in Nablus in search of wanted militants.
State Department spokesman Ned Price on Monday reiterated US condemnation of the killings of Israelis over the weekend and violence by settlers against Palestinians.
"We appreciate the Prime Minister [Benjamin] Netanyahu and the President [Isaac] Herzog's statements call for an end to vigilante violence. We hope that the Israeli government will ensure full accountability and legal prosecution of those responsible for these attacks, in addition to compensation for lost homes and property," Price said. "These events highlight the critical nature of the situation in the West Bank and the urgent need for increased cooperation to prevent further violence."
An Israel Defense Forces official on Sunday condemned the attacks by Israeli settlers as "revenge" and "terrorism" and said the IDF was sending three additional battalions to the area to try to de-escalate the situation.