Karen Khachanov: Azerbaijan calls for sanctions over tennis player's pro-Armenia messages at the Australian Open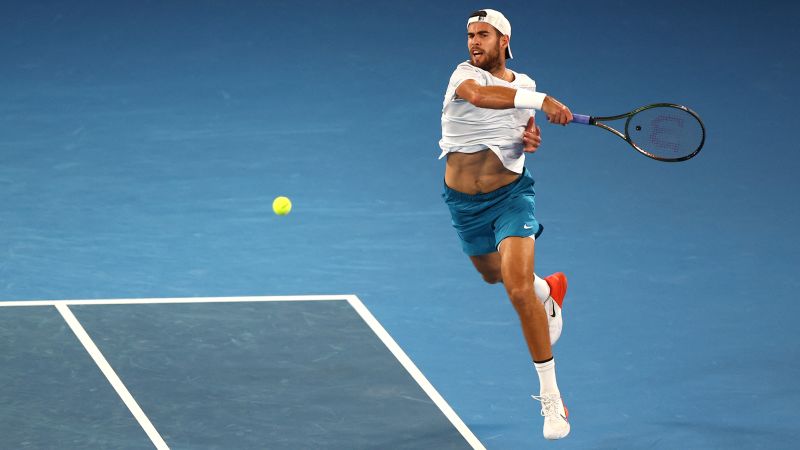 CNN
–

Azerbaijan's tennis federation has called for Karen Khachanov to be sanctioned after the Russian player expressed support for the Armenian-majority population living in the disputed region. Nagorno-Karabakh field in the Australian Open.
Khachanov, who has Armenian heritage, wrote "Artsakh Strong" to the TV cameras after matches in Melbourne.
Armenian is the Armenian term for the breakaway state of Nagorno-Karabakh, an ethnic Armenian-majority region located in the Azerbaijani region. The focus of decades of conflict.
Armenian forces occupied large areas in and around Nagorno-Karabakh in the early 1990s; Fighting then raged on and off until 2020, when Azerbaijan captured large parts of those territories during a bloody, six-week war.
"I have Armenian roots," Khachanov told reporters after his quarterfinal victory against Sebastian Korda on Tuesday.
"From my father's side, from my grandfather's side, even from my mother's side. I am half Armenian. To be honest, I don't want to go too deep, and I just wanted to show strength and support to my people. that's it."
This month, crucial supplies have dwindled in Nagorno-Karabakh after Azerbaijani activists accused Armenian authorities of imposing a blockade of the region. Azerbaijan has denied the allegations through a spokesperson on Twitter.
In November 2020, renewed fighting in the region lasted nearly two months, killing at least 6,500 people, according to Reuters. Hostilities ended after Armenian-backed separatists agreed to relinquish control of territories in Nagorno-Karabakh, and Russia helped broker a ceasefire deal between the two countries.
In a letter addressed to the International Tennis Federation (ITF) on 21 January, the Azerbaijan Tennis Federation called for Khachanov to be punished for messages of support written on cameras at the Australian Open.
Accordingly ReutersThe letter calls for sanctions to ensure Khachanov does not commit further "unacceptable provocations" at tennis tournaments.
The ITF told CNN it had "received a letter from the Azerbaijan Tennis Federation, which we have forwarded to the relevant authorities."
It added: "The rules for the conduct of players at Grand Slam events are governed by the Grand Slam Rulebook administered by the relevant organizer and regulator."
When asked about the letter to the ITF by reporters on Tuesday, Khachanov said he had not heard anything about it.
CNN reached out to Khachanov's representatives but did not receive a response, while a request for comment from Tennis Australia, which organizes the Australian Open, also went unanswered.
Khachanov, 26, represents Russia, although he is competing under a neutral flag in Melbourne. In the wake of the war in Ukraine, Russian and Belarusian tennis players have been allowed to play at the Australian Open but must do so "without flag or country recognition".
This week, four people attending the tournament were questioned by Victoria Police after they "displayed inappropriate flags and signs and threatened security guards," a Tennis Australia spokeswoman said. Organizers previously said fans would not be allowed to bring Russian or Belarusian flags to the site of the Australian Open to enforce a "neutral flag" policy.
On Friday, Khachanov will look to reach his first Grand Slam final at the Australian Open when he faces Stefanos Tsitsipas of Greece.