Let the `lande` of Maharashtra know army of Shivaji Maharaj is ready: BJP MLA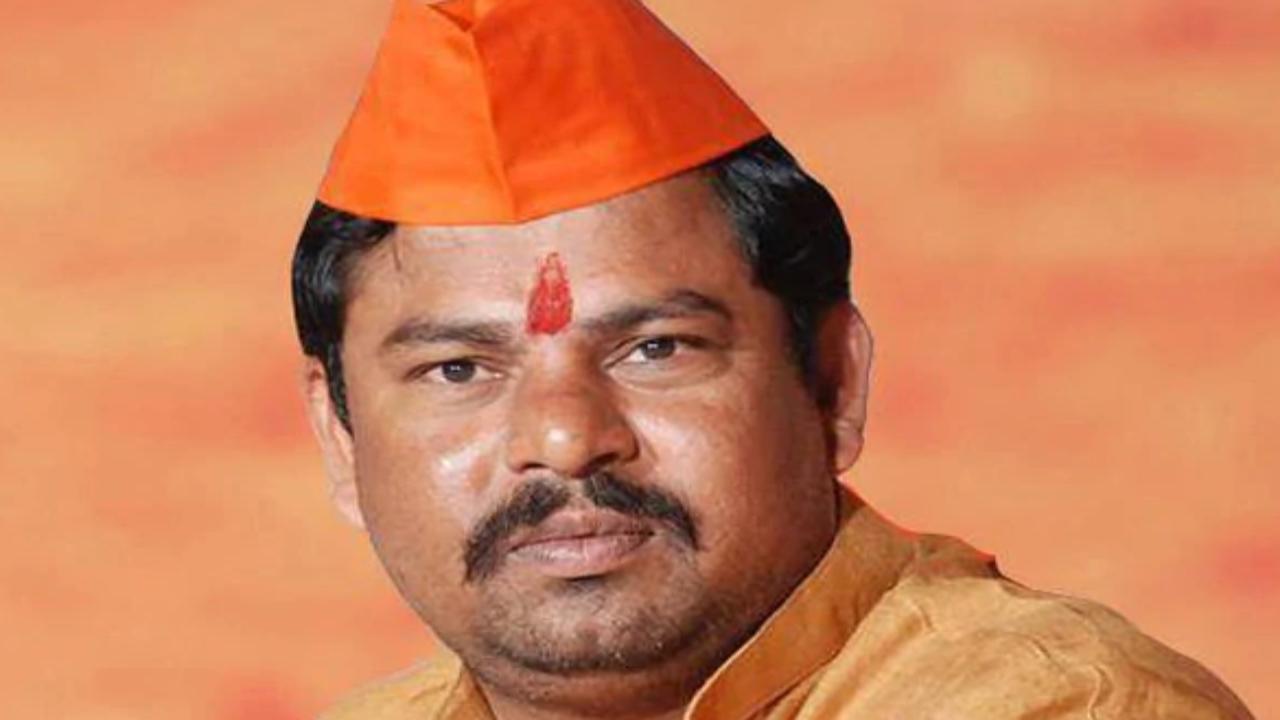 The hate speech video has been suspended Bharatiya Janata Party A video showing Telangana MLA T Raja Singh attacking Muslims is going viral on social media.
The viral video is of Singh's speech at a recent public meeting in Rahata tehsil of Maharashtra's Ahmednagar district.
"Whoever speaks against Hindus, we will not spare them," Singh was heard telling a large crowd of youths.
"In our Hindu nation you won't even get a loudspeaker to do what you do five times a day," he said in an apparent reference to Muslims offering prayers.
Singh also claimed in a media interview that Shiv Sena founder S Bal Thackeray spoke of "wiping out" insects and cockroaches (Muslims) with sprays.
Singh is heard saying that if one wants to defeat 'Lande' (a derogatory reference to Muslims), he should join the Bajrang Dal. He is also heard seeking the support of the youth to make India a 'Hindu Rashtra'.
"Tell the 'land' of Maharashtra that Chhatrapati Shivaji Maharaj's army is ready. Tell those who speak against Hindus or kill cows that we are ready," he is heard saying.
Singh said that India will be declared a "solid Hindu nation" by 2026.
He said that the names of Ahmednagar and Hyderabad (capital of Telangana) cities will be changed to Ahilyabainagar and Bhagyanagar respectively.
"Hindus are demanding to make the country 'Akhand Hindu Rashtra'. If there can be more than 50 Islamic countries and more than 150 Christian nations, why can't India be declared a Hindu Rashtra as Hindus have a majority of 100 million. people?"
Singh said that in 2025 and 2026, India will be declared 'Akhand Hindu Rashtra'. the crowd
Also Read: Maharashtra Govt Employees Start Indefinite Strike Over Old Pension Scheme; Hit the services
Singh, who has a history of making inflammatory communal speeches, was arrested last year for making comments against the Prophet Muhammad. He has addressed rallies in Solapur, Amravati, Latur, Karad, Pune and Mumbai.
At a rally in Latur on February 19, Singh said, "Teach the illegitimate sons of Afzal a lesson. No one should be alive who preaches love jihad on the soil of Maharashtra."
On February 27, the Latur police booked Singh under Sections 295(a) (inciting religious sentiments) and 153 (incitement with intent to incite riot) for his speech.
Latur Superintendent of Police Somay Munde said that a first information report had been lodged and police were investigating the matter. Another police officer in Latur said the police have questioned Singh and are in the process of filing a charge sheet against him.
Singh, MLA from Hyderabad's Goshamahal, is known for his controversial remarks against Muslims.
The BJP suspended Singh from the party in August 2022, following an uproar over his comments against Islam and the Prophet Muhammad (PBUH). Singh was arrested in connection with the case and granted bail.
Singh is facing several police cases including alleged communal crimes in Hyderabad.
The Telangana High Court ordered his release in November 2022, two and a half months after he was detained under the Act, and also granted him conditional bail in the case.
This story is sourced from third party syndicated feeds, agencies. MID-DAY DOES NOT ACCEPT ANY RESPONSIBILITY OR RESPONSIBILITY FOR ITS RELIABILITY, RELIABILITY, RELIABILITY AND DATA OF THE TEXT. Mid-day management/mid-day.com reserves the sole right to change, delete or remove content (without notice) at its sole discretion for any reason.