Marcus Ericsson wins crash-filled opening IndyCar race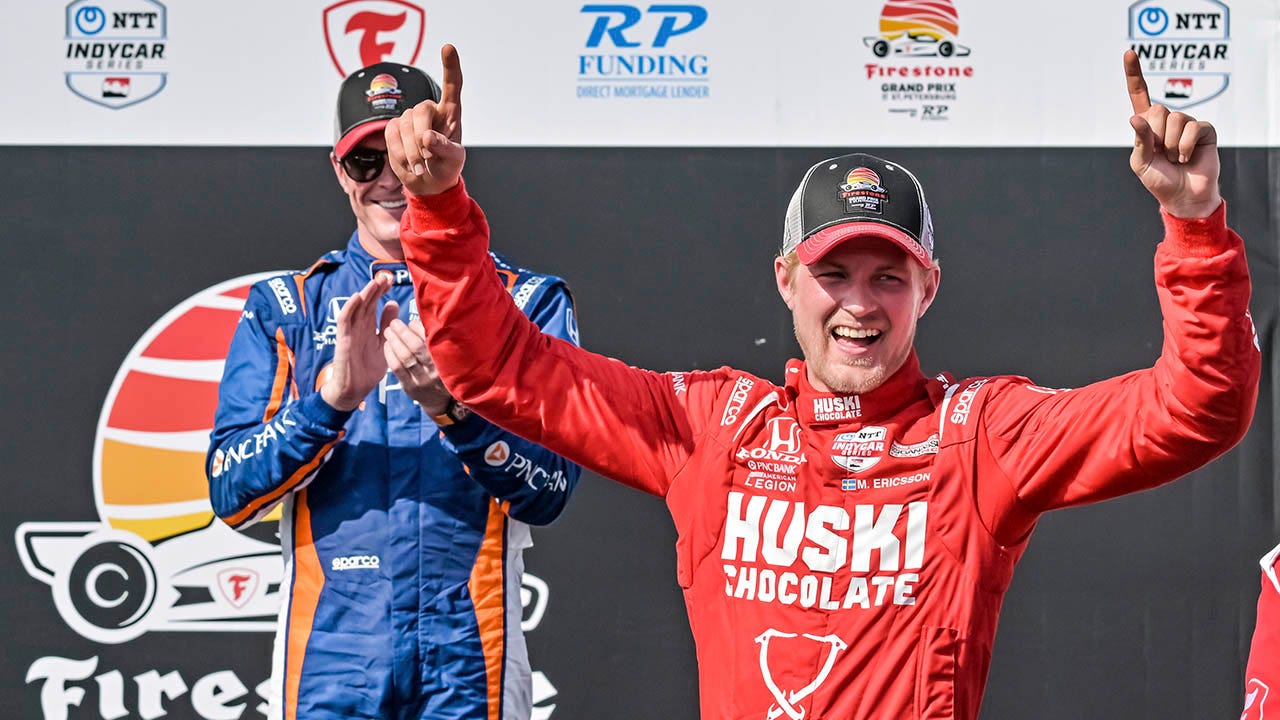 Jack Harvey was taken to the hospital and Helio Castroneves needed ice packs and X-rays. A pair of cars went airborne, the leaders crashed into each other and the entire Andretti Autosport fleet was wiped out.
Indianapolis 500 winner Marcus Ericsson, meanwhile, won the IndyCar season-opening race.
Erickson overcame carnage on the downtown streets of St. Petersburg for a surprise win for Chip Ganassi Racing on a swampy Sunday in Florida. It was the fourth career IndyCar win for the Swedish former Formula One driver.
"I think people forget us in some conversations when they talk about championships," Eriksen said. "We're here to win. We won the 500. We were leading the championship for a long time. We're here to win."
Click here for more sports coverage on FOXNEWS.COM
It should have been an Andretti car in victory lane, at least based on the pace the team showed all weekend. Romain Grosjean and Colton Herta started on the front row, but things started to unravel from the start.
A seven-car crash on the first lap put five cars out of the race, including Andretti driver Devlin DeFrancesco, who was sent flying when rookie Ben Pedersen drove straight into his stalled car. collided Castroneves, a four-time Indianapolis 500 winner, walked away from the crash while his Mayer Schenck Racing teammate Simon Pagenaud held his hand.
Castroneves left IndyCar's new mobile medical care center with an ice pack on his right hand, and a clean X-ray on his right knee. Pagenaud said he had a bruised finger but was fine.
Harvey was not so lucky and Kyle Kirkwood became the second Andretti driver to go airborne and was briefly seen at a local hospital after traveling directly over Harvey's head. Rins VK had slid into a tire barrier, Harvey ran into the back of VK and Kirkwood ran over both cars.
"It was a very disappointing way for our race to go out there," Harvey said later, via teammate Rachel Letterman Lanigan. "I couldn't really escape the rinses and then when I was trying to get out of the car I had a little bit of pain in both wrists. Physically, I would say it was a tough race but I was pretty good. felt."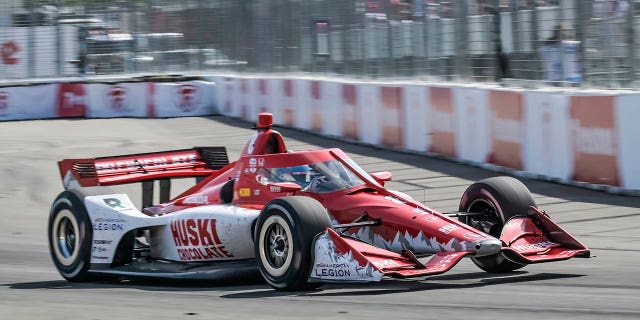 When Kirkwood launched, Michael Andretti slammed his hand on the pit stand in disgust.
During the first race of the season, IndyCar driver Dillon DeFrancesco went airborne in a horrific accident
But there was more to come.
Herta was sent into a tire barrier by contact with reigning IndyCar champion Will Power, who received an avoidable contact penalty, leaving Grosjean as the last remaining chance for Andretti.
But as Grosjean and defending race winner Scott McLaughlin raced side by side for position, the two cars touched in what appeared to be a game of chicken in a corner. Neither driver lifted off and both cars crashed into a tire barrier.
Grosjean was furious, first throwing his arms in disgust and then making his first attempt at a pile of tires as he screamed. McLaughlin received an avoidable contact penalty. Andretti muttered and buried his head in his hands.
McLaughlin and Power said they would seek out Grosjean and Herta, respectively, to apologize, and McLaughlin went to Grosjean's team truck and hugged him. Scott Dixon, meanwhile, apologized repeatedly for the opening lap contact with Felix Rosenqvist that sparked a major crash behind them.
Ericsson, meanwhile, passed Peto O'Ward for the win with three laps to go when O'Ward suffered a slight power loss. O'Ward pumped his fist in disgust as Ericsson cruised to victory for Honda.
O'Ward was second in a Chevrolet for McLaren and could barely find the words to speak in his initial frustration.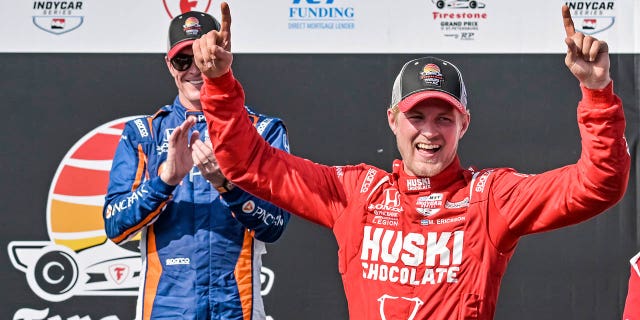 "It's too narrow to give it like that," O'Ward said with a sigh. "The team can't do that. We only got 10 points. We will look at all the data and make sure it doesn't happen."
Eriksson had no problem winning this way.
"This is racing," he said.
Dixon, a six-time IndyCar champion, was third for Ganassi's 193rd top-finish, tying him with Mario Andretti for the most. Dixon's top-five percentage is 52%.
Alexander Rossi was fourth in his first race with new team McLaren.
Callum Ilott finished a career-best fifth for Juncos Hollinger Racing, followed by Graham Rahal of Rahal Letterman Lanigan and then Power of Team Penske. Ganassi's Alex Palu finished eighth while RLL drivers Christian Lundgaard and David Malukas rounded out the top 10.
Marcus Armstrong, a rookie who moved from F2 in Europe to race for Gansey in IndyCar this season, finished 11th in his series debut to make Gansey, not the team of the day, Andretti.
Click here to get the Fox News app
Next up: IndyCar next races on April 2 at Texas Motor Speedway, where Josef Newgarden is the defending race winner.