Mikael Ymer: Tennis player disqualified from match after smashing racket against umpire's chair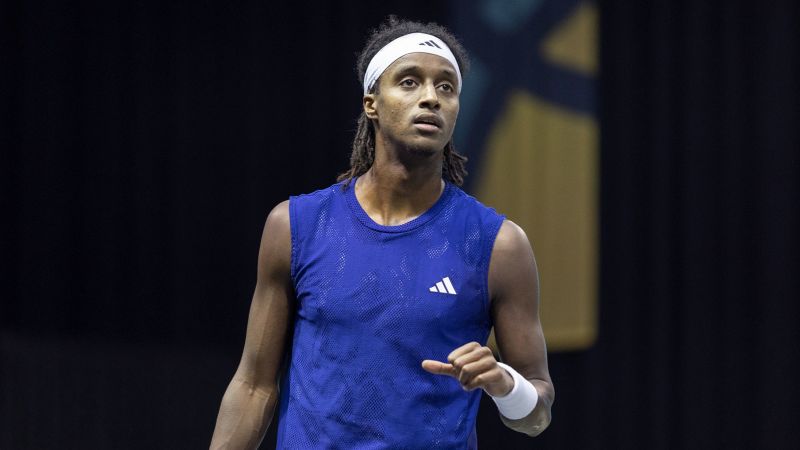 CNN
–

swedish tennis Player Mikael Yammer was disqualified from the Lyon Open on Wednesday after breaking his racket on the base of an umpire's chair.
The event It happened after Yamar requested umpire Rogerio Santos to check the ball mark on the clay during their round of 16 match against France's Arthur Fils.
Santos said he saw the ball bounce over the line and so he would not check the mark on the court – as umpires often do on clay – although Yammer was adamant the ball went out.
"I've never seen a quote say, 'I'm not going to go down and check the sign.' It doesn't happen. Why aren't you checking the sign I'm giving you?" Yammer said to Santos.
Fils then broke Yamer's serve to go 6-5 up, after which the world number 53 hit his racket twice on the umpire's chair, breaking the racket head away from the handle on his second swipe.
A tournament official then told Yamer that he had been disqualified. The 24-year-old went on to congratulate Phils, who will face top seed Felix Auger Aliassim in the next round.
One such incident German player Alexander Zverev is involved It happened in the Mexican Open last year.
Zverev was given an eight-week suspended ban and a $25,000 fine for repeatedly hitting the umpire's chair with his racket during a first-round doubles match.
At the time of the incident, he was eliminated from the singles tournament, fined $40,000 and the $31,570 in prize money he had already collected, as well as forfeiting all ATP ranking points from the event.
CNN has contacted the ATP Tour regarding Yammer's disqualification from the Lyon Open.