Nigeria election results: Peter Obi lands surprise win in Lagos State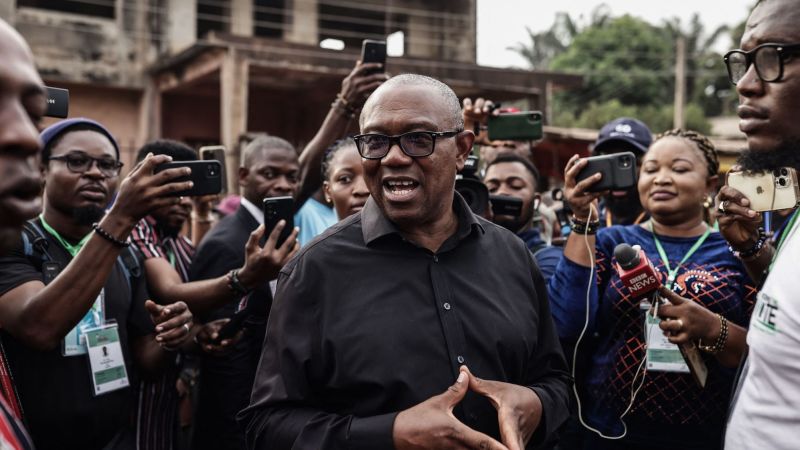 Lagos, Nigeria
CNN
–

Nigeria's third party candidate, Peter Obi, has won Lagos state, defeating the dominant ruling party candidate, Bola Tinubu, in his home turf, according to results announced by the state's collation centre. Obi's victory comes as a surprise as the state is a stronghold of Tinubu, who was expected to win the state easily.
Tinubu is a former governor of Lagos State and is known as a political godfather and kingmaker there.
Obi, who is 61 years old, has gained popularity especially among the youth, many who call themselves 'objectives'.
The election is one of the most contested in the country since 1999 and the two-party system that has dominated Nigerian politics since then faces an unprecedented threat in Obi's Labor Party.
According to the Independent National Electoral Commission (INEC), a total of 93 million people registered to vote in the country and 87.2 million obtained their voter cards.
Many voters in Lagos complained of intimidation and attempts to suppress their votes. CNN visited a polling unit in Lekki, Lagos, which was attacked and forced the military to intervene.
Dr. Chidi Nwagwu told CNN: "I arrived at 10 in the morning. The polling material was late and we got ready to start voting. Some thugs came and started beating people with chairs. I was hit with a chair several times. There was a doctor who helped us. Many women including a pregnant woman were attacked. He was knocked to the ground and they smashed his phone."
Alicia Gaberikan said: "There was harassment and it was an offense if you had a phone. People were beaten up and their phones were broken. It was very scary."
Political analyst Remi Adekoya said Obi's victory was "the biggest blow of Tinubu's political career".
"This election is reshaping Nigeria's political landscape … Peter Obi's victory in Bola Tinubu's home turf of Lagos has shown that many Nigerians want a new kind of politics and that the days of godfatherism are numbered," He continued.
However, Michael Famoroti, head of intelligence at Lagos-based data company Steers, cautioned that Obi would struggle to replicate the victory across the country.
"Peter Obi's performance in Lagos is unlikely to translate across the country," he said.
"Given its performance in other southwestern states, the victory in Lagos reinforces the view that the Obedient movement is still concentrated among an upper economic class.. Elections in Nigeria are still won in rural areas. are and the figures so far suggest that … Peter Obi still faces an uphill task in securing the necessary votes in critical states."
Nigerians went to the polls in Africa's biggest democratic exercise on Saturday but it was beset by long delays and some voters did not get to vote because election officials failed to show up.
Yiaga Africa, a non-profit citizens' group, says it deployed 3,836 observers across the country and was disappointed with the election process.
"There is a sense of disappointment, quite frankly, with the way this process has gone. Clearly, we have not overcome and resolved our perennial logistical challenges with elections," Samson Itodo, Yayaga's executive director, told CNN.
CNN has contacted INEC for a comment.
The Nigerian election process "lacked efficient planning and transparency during critical stages of the electoral process," the European Union Election Observation Mission (EU EOM) said in an opening statement on Monday.
Observers noted that confidence in the Independent National Electoral Commission (INEC) was eroded by delays in polling on election day and "gaps in information related to an overly predictable approach to results".
The mission blamed insecurity in some areas, widespread allegations of vote buying, and ongoing fuel and cash shortages as some of the factors behind the challenging electoral process.
Another observer group, the Joint Mission of the International Republican Institute (IRI) and the National Democratic Institute (NDI), also criticized Saturday's election, saying the process "fell far short of the reasonable expectations of Nigerian citizens."
"Several incidents of local challenges and political violence affected the electoral process and prevented a large number of voters from participating," they said in an earlier statement.
As a result, the organizations say, Nigerians were disenfranchised in many areas, but "the scope and scale is currently unknown."
And former Nigerian President Olusegun Obasanjo called on the Electoral Commission to repeat elections in places marred by violence or where officials failed to act, and also called on incumbent President Muhammadu Buhari to intervene.
In an open letter on Monday, the former leader accused INEC of corruption and said "danger and disaster" is looming in Nigeria if the errors in the electoral process are not corrected.
"Tensions are rising," Obasanjo said while addressing Buhari. "Please allow all elections that do not pass the test of credibility and transparency to be void."