Novak Djokovic makes political statement about Kosovo after first-round French Open win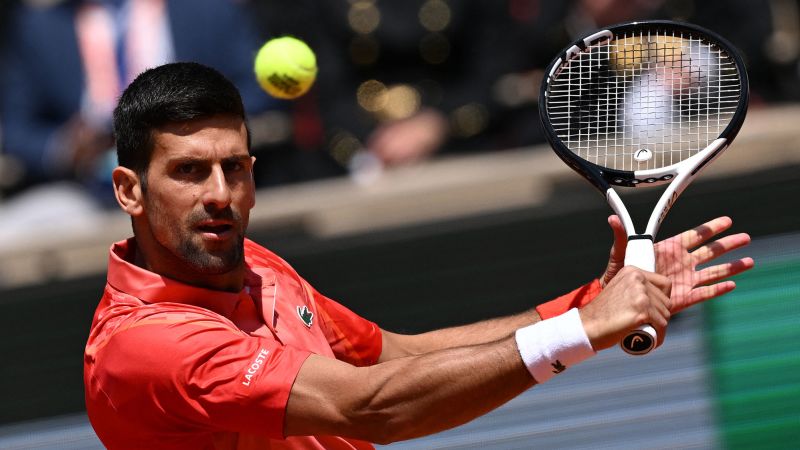 CNN
–

Serbian tennis star Novak Djokovic left a political message on the lens of a TV camera in response to violent clashes at the French Open on Monday. Kosovo.
After his first-round win against American Aleksandar Kovacevic, Djokovic wrote "Kosovo [heart] of Serbia Stop violence in the Serbian language on the camera lens, using the heart symbol.
The message was displayed on the big screen at Court Philippe Chatrier.
Tensions have been rising over the past week in Kosovo, which declared independence from Serbia in 2008. Clashes erupted with protesters on Monday after ethnic Albanian mayors took office. Northern KosovoA majority Kosovo Serb area, following April elections that were boycotted by Kosovo Serbs.
At least 34 soldiers from the NATO peacekeeping mission in Kosovo were injured during the clashes.
Djokovic elaborated on his message in Serbian at a press conference: "It's the least I could do. I feel a responsibility as a public figure – no matter what area to support.
"Especially as the son of a man born in Kosovo, I feel the need to give my support to my people and all of Serbia. I don't know, and I think a lot of other people don't know, what the future holds for Kosovo and the Serbian people, but in these kinds of situations it's important to show support and show solidarity. I don't know what will happen."
Djokovic's reference to "the integrity of Serbia" reflects the policy of the Serbian government, which still considers Kosovo an integral part of its territory and does not recognize the country's independence.
NATO's Kosovo Force (KFR) said on Monday that recent developments in Kosovo had prompted it to increase its presence in the northern part of the country.
According to the Italian Defense Ministry, some KFR soldiers were injured when protesters threw "Molotov cocktails with nails, firecrackers and stones".
Djokovic said he had not been contacted by French Open organizers about the message written on the camera lens, a photo of which he also shared on Instagram, Reuters reported. CNN has reached out to the French Tennis Federation for comment.
"My position is clear: I am against wars, violence and any kind of conflict, as I have always said publicly. I sympathize with all people, but the situation in Kosovo is a precedent in international law, " added the 36-year-old.
Growing up in Belgrade, Djokovic Survived during NATO's 78-day bombing campaign in 1999, which aimed to end atrocities committed against ethnic Albanians in Kosovo by the forces of then-Yugoslavian President Slobodan Milosevic.
Djokovic is aiming for his 23rd Grand Slam title at the French Open, which would see him overtake Rafael Nadal at the top of the men's all-time list.