Novak Djokovic says his father had 'no intention whatsoever to support any kind of war initiatives'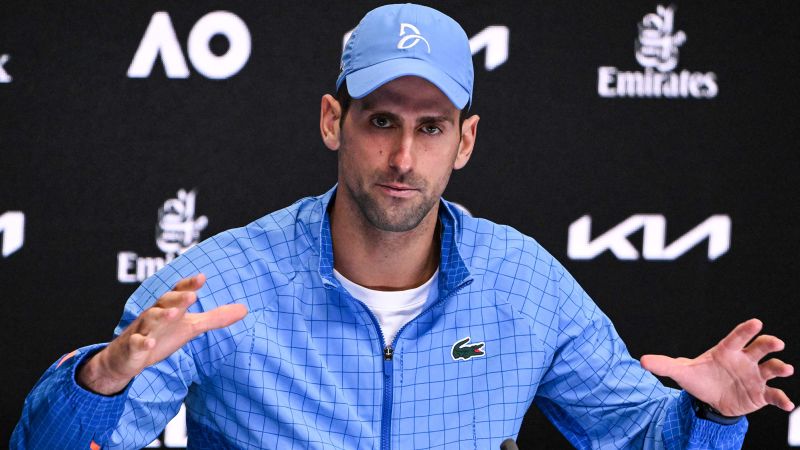 CNN
–

Novak Djokovic said his father, Sreejan, had "no intention" of supporting any kind of "war initiative" after he was filmed with a group of Russian supporters at the Australian Open.
Djokovic defeated American Tommy Paul in straight sets on Friday to reach his 10th Australian Open final. Before the match, tournament organizers said they had "briefed and reminded" the players and their teammates about the tournament's "flags and insignia policy".
On Wednesday, video emerged of Djokovic's father with a group of supporters holding a Russian flag and displaying the "Z" sign, seen as a sign of support for Russia and its invasion of Ukraine.
The symbol has been seen on Russian equipment and clothing in Ukraine.
Srijan Djokovic said he would not be in the stands to watch his son's semi-final, saying he was in Melbourne "only to support my son" and had "no intention of causing such headlines or disruption."
After his victory against Paul on Friday, Djokovic said: "My father, my whole family and I, went through many wars during the 90s.
"As my father said in a statement, we are against war, we will never support any violence or any war. We know how devastating it is for the family, for the people of any country going through war. "
Growing up in Belgrade, Djokovic Survived during NATO's 78-day bombing campaign in 1999Its purpose was to end atrocities committed against ethnic Albanians in the province of Kosovo by the forces of then-Yugoslavian President Slobodan Milosevic.
Djokovic added that his father, as has been the case throughout the Australian Open, went to meet the fans, many of whom were displaying Serbian flags, to thank them for their support after their Australian Open quarter-final loss. .
"The photo he took was going through it," Djokovic said. "I heard what he said in the video. He said, 'Cheers.' Unfortunately, some of the media have interpreted this in a really wrong way.
"I'm sorry it's gone so far. But I hope people will understand that there was absolutely no intention to support any kind of war initiatives or anything like that.
"My father… he thought he was taking a photo with someone from Serbia. that's it. He went on."
Asked if his father would return to the stadium for Sunday's final against Stefanos Tsitsipas, Djokovic said he would wait and see.
"Of course, not putting him in the box, again, it was not pleasant [on Friday]," Ous said. "It's a decision we made together. Just didn't know how things would play out, I guess.
"I hope he has. I hope he's going to feel good enough to get on the courts because I'd like to have him there for the final. "
The presence of Russian flags and symbols at the Australian Open has been a source of controversy throughout the tournament.
In the first week, organizers banned spectators from displaying Russian and Belarusian flags, and on Wednesday, they said four people had been kicked out of Melbourne Park for displaying pro-war imagery.
Several Ukrainians, including current player Marta Kostyuk and former player Alexander Dolgopolov, have spoken out against the presence of the Russian flag and "Z" symbols at the tournament.
On court, Djokovic has been in excellent form over the past two weeks and is a strong contender to defeat Tsitsipas in the men's singles final.
If he does, he will win his 10th Australian Open title and 22nd Grand Slam crown, tying him with Rafael Nadal at the top of the men's all-time list.