PM Modi clicks 'special' selfie with proud BJP worker in Chennai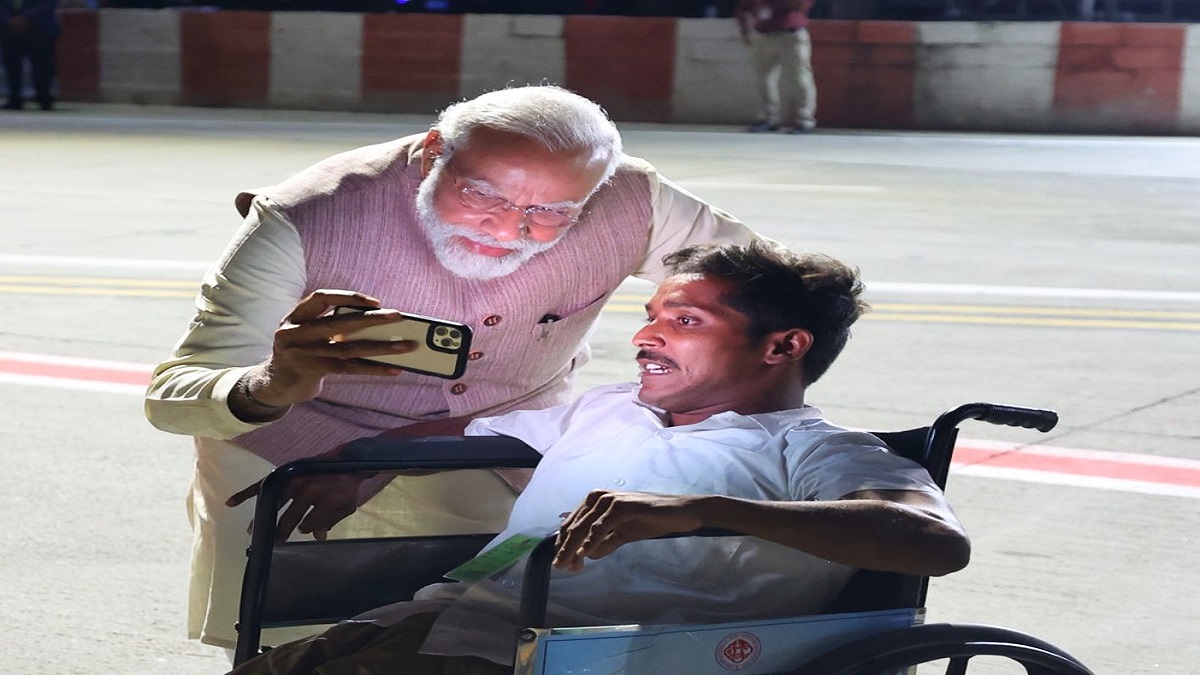 Prime Minister Narendra Modi took a special selfie during his one-day visit to Telangana and Chennai on Saturday. At the end of his visit he met a specially qualified worker of the Bharatiya Janata Party, Thiru S. Met Manikandan and took a selfie with him.
Sharing the picture on social networking site Twitter, he wrote, "A special selfie… In Chennai I met Thiru S. Manikandan. He is a proud functionary of Erode, serving as a booth president." He added, "A disabled person, he runs his own shop and the most inspiring aspect is that he gives a large portion of his daily profits to the BJP."
Thanking Manikandan, PM Modi said, "I feel very proud to be a functionary in a party where we have people like Thiru S. Manikandan. I wish him all the best in his future endeavours," he said. said further
Prime Minister will visit Karnataka today
In poll-bound Karnataka, Prime Minister Narendra Modi will visit the Bandipur Tiger Reserve today (April 9) morning and interact with frontline field staff and self-help groups involved in conservation activities. He will also visit Theppakadu Elephant Camp in Mudumalai Tiger Reserve and interact with the mahouts and kawadis of the elephant camp.
The Prime Minister will also interact with the Field Directors of the Tiger Reserves who scored the highest marks in the recently concluded 5th cycle of the Management Effectiveness Assessment exercise.
The Prime Minister inaugurated several projects in Tamil Nadu, Telangana
Prime Minister Narendra Modi on Saturday inaugurated development projects worth Rs 5,200 crore in Tamil Nadu's Chennai and said the government's work culture and vision made its achievements possible.
The Prime Minister said that his government works with deadlines and achieves results before the deadline. "Two things made the government's achievements possible: work culture and vision. Earlier, infrastructure projects meant delay, now they mean delivery. The journey from delay to delivery has been due to our work culture. We through our taxpayers Feel accountable for every rupee paid. We work with specific deadlines and get results before them," PM Modi said in his address at a public meeting.
He said his government does not see infrastructure in terms of concrete, bricks and cement, but with a human face that 'connects aspirations with capabilities'.
"Infrastructure connects aspirations to achievements, people with potential and dreams to reality. This is a time of new hopes, new aspirations and new beginnings. Some of the next generation infrastructure projects will start serving people today. In a few years, India has witnessed a revolution in terms of infrastructure. It is driven by speed and scale. When it comes to scale, you can look at the Union Budget!" The Prime Minister said.
Also Read | Do not hinder development in Telangana, PM Modi targeted the KCR-led government
Also Read | PM Modi flags off Chennai-Coimbatore Vande Bharat Express train in Tamil Nadu