Ram Mandir stunning view from helicopter Fadnavis shares video Maha CM Deputy CM Ayodhya visit latest news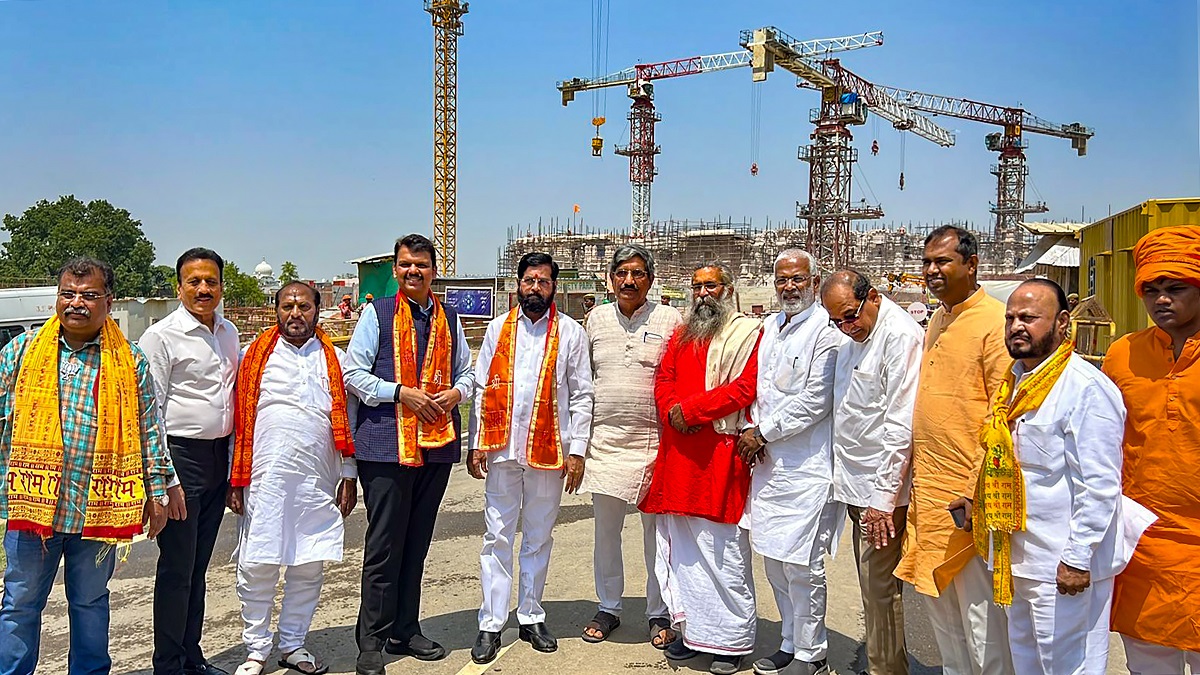 Maharashtra Deputy Chief Minister Devendra Fadnavis on Sunday tweeted a video showing an aerial view of the construction of the Ram temple in Ayodhya.
Fadnavis shared the video when he was traveling from Lucknow to Ayodhya with Chief Minister Eknath Shinde.
Devendra Fadnavis tweeted, "This is how the construction of Prabhu Shri Ram Temple is going on in Ayodhya. Aerial view from a helicopter flying from Lucknow to Ayodhya…" Devendra Fadnavis tweeted.
On arrival in Ayodhya, CM Eknath Shinde said that those raising doubts about the construction of Ram temple in Ayodhya have been shown their way home as the process has started and the work is in full swing.
After paying obeisance to Ramlalla and overseeing the construction work of the temple, Shinde said he was happy that the dream of "Hindu Heart Emperor" Bala Sahib Thackeray and crores of Ram devotees was coming true.
"Everyone was wondering when the construction work would start. Some were saying 'Mandar vaheen banayenge, par tarikh nahi batayenge' (the temple will be built there, but the dates will not be given) but Prime Minister Narendra Modi said the work has started and crores The dream of Ram devotees is being fulfilled…those seeking dates have also been shown the way home," Shinde, who is on his maiden visit to Ayodhya along with thousands of Shiv Sainiks, said the Chief Minister.
His supporters were seen carrying saffron flags with Shiv Sena's election symbol.
Shinde said that before the construction work of the temple started, several opposition parties used to take a jibe at the ruling Bharatiya Janata Party (BJP) by raising slogans – "Mandar waheen banayenge, but tarikh nahi batayenge".
At Hanumangarhi, the Chief Minister of Maharashtra was given the mace by the temple's Mahant Raju Das. On this occasion, his deputy Devendra Fadnavis and BJP MP Brijbhushan Sharan Singh were also present.
"I thank you all for seeing our dream come true with my own eyes. I thank the Prime Minister and (Uttar Pradesh) Chief Minister Yogi Adityanath. The teak wood used in the temple is from Maharashtra and it is ours. A small contribution, Shinde said.
Taking a dig at former Maharashtra Chief Minister Uddhav Thackeray, he said that he wanted to tell those who used to say that it was 'Raavan Raj' that this government was formed with the blessings of Lord Ram.
Shinde said, "They put (independent MP) Navneet Rana and her husband in jail for reciting Hanuman Chalisa. When saints were killed, they remained silent. Now, there will be no atrocities on the poor. And saints will be honored and protected," Shinde said. .
He said that the entire atmosphere from Lucknow to Ayodhya has become 'Ram-Mai' (filled with Lord Ram's slogans) and he is happy to enter the holy city with 'Kaman-Tir' (Shiv Sena's election symbol). Ayodhya has come. ).
Also Read | Eknath Shinde's Ayodhya visit: "Will Lord Rama bless him?", asks Sanjay Raut
Also Read | PM Modi meets elephant whisperers duo Bowman and Bailey in Tamil Nadu
Latest news from India