Sunny Deol congratulates Salman Khan on Tiger 3 success: Tiger Zindabad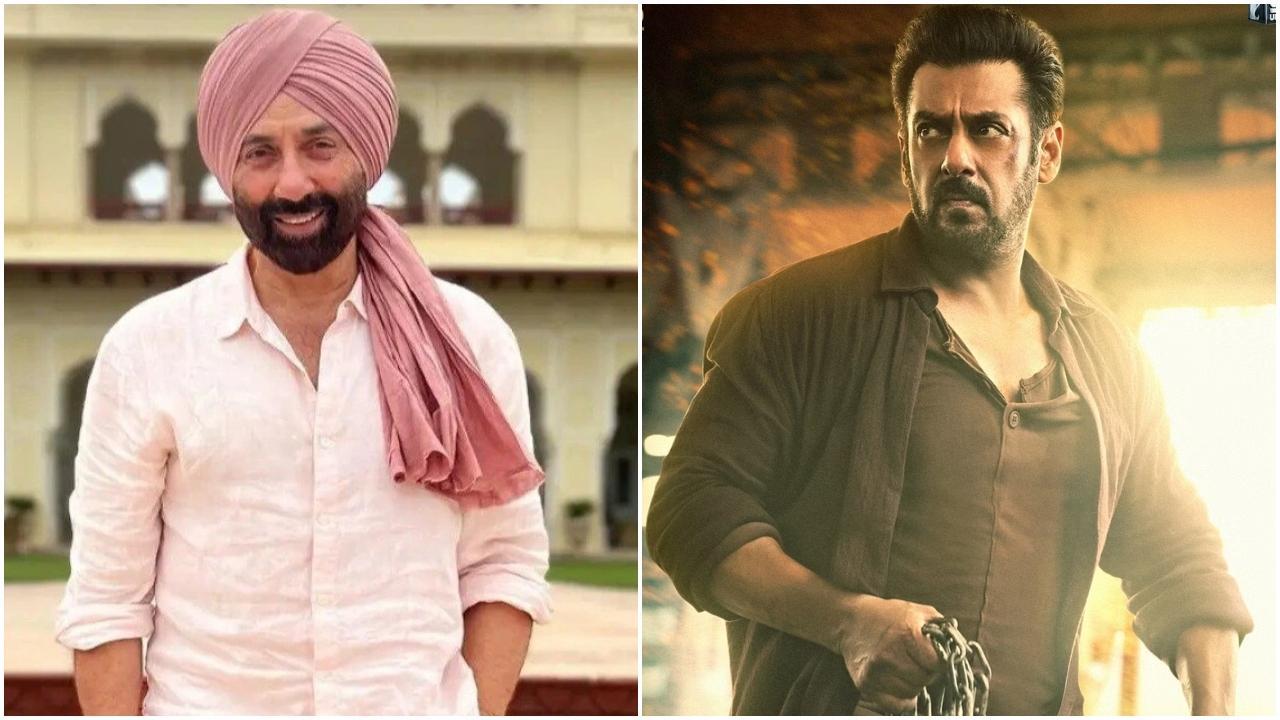 The `90s superstars of Bollywood are back in their glory and are ruling the box office like before. Bringing the era of mass entertainers to the big screen once again, they are rightfully the talk of the town. After Shah Rukh Khan`s Pathaan and Jawan and Sunny Deol`s Gadar 2, Salman Khan gave a Diwali gift to his fans by releasing Tiger 3 on Laxmi Puja (November 12). The spy thriller is performing well at the cash counter.
Sunny, who shares a family-like relationship with Salman, was all praise for the superstar. Congratulating him on the success of Tiger 3, the actor-politician shared a poster on his Instagram stories and wrote, "Tiger Zindabad (sic)." The poster mentioned the box office collection of the film.
Salman had also congratulated the team of Gadar 2 on the film`s humongous success. Sharing the poster, he wrote, "Dhai kilo ka haath equals chalis cr ki opening (Two and a half kilo hand equals ₹40 crore opening). Sunny paaji (brother) is killing it. Congrats to the entire team of Gadar 2. @iamsunnydeol @ameeshapatel9 @anilsharma_dir @iutkarsharma @zeestudiosofficial #TeamGadar."
View this post on Instagram
The Tiger 3 star also sent out good wishes to Sunny`s younger son, Rajveer Deol, for his Bollywood debut, Dono. Sharing a picture from the press meet, Salman wrote on Instagram, "Hope this film #Dono does for inn teeno Rajveer, Paloma and Avnish what it did for hum teeno Sooraj, Bhagyashree and me."
View this post on Instagram
In a previous interview with Zoom, Sunny spoke about his bond with Salman. He said, "Salman and I have known each other over the years when he was not even acting. We interacted with each other and he always used to look after me and he always wanted to be strong (wanted to be like me) and we also did a film together. He always stood by me. It is the kind of respect we have for each other."
On Koffee With Karan 8, Sunny`s younger brother Bobby Deol opened up about how Salman played an instrumental role in reviving his career a few years ago. He said, "Salman told me that `Dekh jab mera career thik nahi chal raha tha, main tere bhai ke peeth pad chad gaya tha, main aage badha, main Sanjay Dutt ke peeth par chad gaya, main aage badha.` We call each other mamu, toh maine usko bola `Mamu, toh mujhe tere peeth par chadhne de na`. So, he remembered that and a couple of years later, I got a phone call from him and he said `Mamu shirt utarega?`I said, `Haan mamu main kuch bhi karunga`. So, that`s how I got Race (Salman told me that `Look, when my career was not going well, I piggybacked on your brother`s back, I piggybacked on Sanjay Dutt`s back, and moved forward.` We called each other Mamu, so I said to him `Mamu, let me ride on your back too`. So, he remembered that and a couple of years later, I got a phone call from him and he said `Mamu will you remove your shirt [on camera]` I said, `I will do anything`. So, that`s how I got Race)."