`Triangle of Sadness` Review: Enchantingly inviting satire on class and politics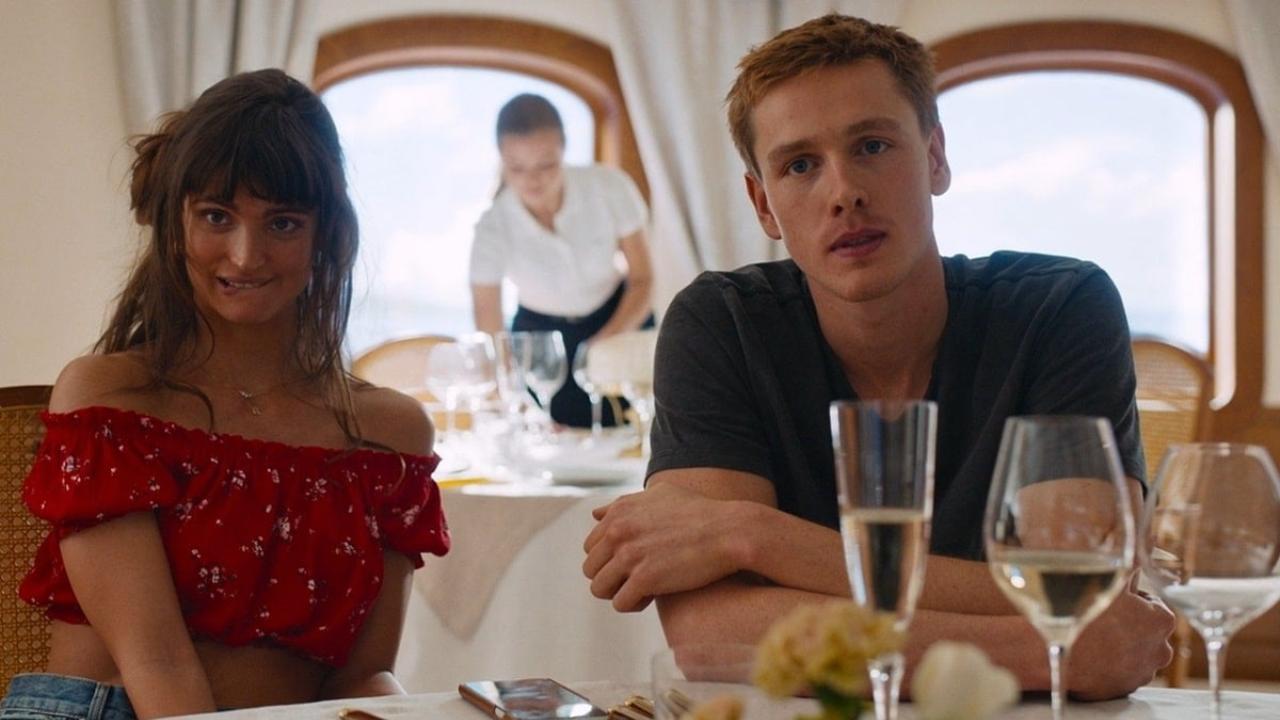 Movie: Triangle of Sadness
Cast: Harris Dickinson, Charlby Dean, Dolly de Leon, Zlatko Burik, Iris Burben, Vicky Berlin, Henrik Dorsin, Woody Harrelson
Director: Ruben Ostlund
Rating: 3.5/5
Runtime: 147 minutes
Sweden's socially conscious writer/director of popular films such as 'Force Major' and 'The Square' Ruben Ostlund, in this first English-language outing and recent Palme d'Or winner, uses his sharp, quick and clear wit to debunk class and opportunistic politics. The triangle of depression basically refers to the Botox-ready space between the fashion models' eyebrows – and we get that right from the opening act where the models are auditioning for a high-end brand campaign.
For those seeking an escape from the drudgery of middle-class life, this film has the potential to take you on a scenic cruise ride for the uber-rich that inevitably leads to disaster – a paradise for you. Provides an opportunity to escape in a quirky way. Distressed by the survival strategies of those washed ashore.
The premise is simple. What happens when a celebrity model and 'influencer' couple come face to face with the wealthy elite and service and cleaning staff aboard a cruise liner, affordable only for the uber-rich?
At the very top is a class of people so wealthy they've lost all touch with reality – wining and dining and shopping to their heart's content. An elderly, genteel Brit couple (Oliver Ford Davies and Amanda Walker) have made their fortune by "protecting democracies around the world through pure engineering" – albeit by selling weapons and ammunition. A fertilizer magnate, a Russian oligarch (Zlatko Burik), tells everyone that he made his money from dirt. And there are many more of their kind. While on deck the largely white service workers overseen by rich Sun, Paula (Vicky Berlin) celebrate potential tips and non-white cleaners of color await their turn in the hull below.

'Triangle of Sadness' is a three-act story. The first, which could be its own short film, introduces us to Carl (Harris Dickinson) and Yaya (Charlby Dean), two models on a date who get into an argument at the end of their fancy dinner. falls On gender-based assumptions. Ostlund moves back and forth across time to sharply delineate transactional relationships and potential gender roles. It's a great opening for a film that takes us on an ambitious merry-go-round before overturning the class hierarchy.

The second part takes place on a yacht that Yaya and Carl have been invited to promote through their social media handles. This is where the class hierarchy is most apparent. Ostlund uses cutting wit to re-elevate his intent through the narrative. A woman (Mia Benson) insists that the ship flashing everywhere has gray sails – but the yacht is motorized and has no sails. Carl, jealous of a shirtless employee who dares to catch Yaya's admiring eye, is fired.
A lonely app-creating genius (Henrik Dorsin) is visibly grateful when two beautiful young women welcome him to take a photo with them. Another passenger (Sunny Meles) insists that the entire crew go swimming. A crippled woman (Iris Burben) recovering from a stroke can only repeat the words "In den Volken," which means "in the clouds."
From the way Ostlund sets up his narrative, it is quite clear that the super rich have little or no clue about the reality on the ground and want everyone else to be slaves to their whims and fancies.
Also Read: 'Missing: The Quest 2' Review: A perfect thriller for the 'IT' generation
Ending the hustle begins with the Captain sitting down to dinner on a stormy night. The drunken world-weary Captain (Woody Harrelson) prefers to eat his hamburgers while his guests dine on impressive fine-dining options designed specifically to impress them. As the storm begins to rage outside (evident from the constant commotion inside the dining area) the guests, one by one, begin to settle down. Ostlund uses the camera to give a satirical account of the nausea and intestinal upheavals that guests experience before the night turns into an explosion of bodily fluids.
While the second act more or less demolishes most of the social structure, the third is designed to flatten it for good and then opposite roles. Surviving after being marooned on an island in the middle of nowhere calls for survival skills that only hard-working toilet manager Abigail (Dolly de Leon) can provide. So it sets him up as the boss while others must do his bidding or pay the price.
It's an oddly funny cruise ride that makes topsy-turvy experiences fun. Ostlund's sharp dialogue that references Reaganism, Thatcherism, Mark Twain and Vladimir Lenin and Fredrik Wenzel's sparkling cinematography and some wonderfully natural performances charmingly invoke this satirical satire on class and politics.