Tyson is laying off nearly 1,700 poultry plant workers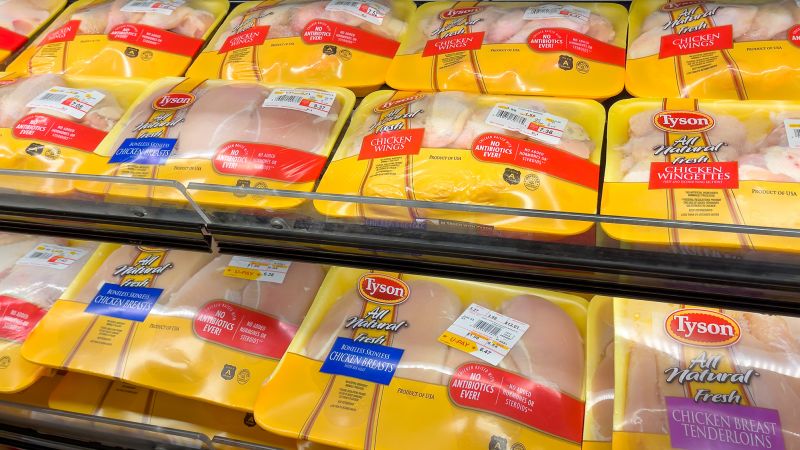 new York
CNN
–

Tyson is laying off about 1,700 workers as it closes two poultry plants in an effort to boost profits.
The company will close a chicken processing plant in Glen Allen, Virginia, which employs 692 people, as well as one in Van Buren, Arkansas, with 969 employees, on May 12.
decision to close"[reflects] Our comprehensive strategy to strengthen our poultry business by streamlining operations and utilizing full available capacity at each plant,' Tyson Foods

(TSN) The spokesperson told CNN in an email on Tuesday. According to the spokesperson, the scale of the facilities, along with the "inability to improve operations economically, led to the difficult decision to close the facilities."
Tyson had about 124,000 U.S. employees as of October.
Many companies are still laying off workers amid high inflation and fears of a recession, many of them in the tech sector. In this case, Tyson is pointing to weaknesses in its poultry operations.
Tyson, a major meat and poultry processor, cited problems in its chicken business during a February analyst call discussing the company's most recent quarterly results.
In the three months ended Dec. 31, "demand in parts of the market didn't show up where we expected," Tyson CEO Donnie King said on the call. "As a result, we had to move things around." He added that this led to increased costs and reduced prices.
"As we think about moving forward, efficiency in our operations will be a focal point for us in our company," he said.
The company is shaking up that part of the business amid extensive turnover.
Tyson announced Wes Morris as the new head of its poultry business in January. Morris, a longtime employee of the company, left Tysons in 2017 and has since consulted for the poultry business. He replaces David Bray, the previous poultry president, who just stepped into that role in 2021 — the same year that Tyson reported its chicken volume was down because of breeding issues.
Also in 2021, King became CEO, replacing previous chief executive Dean Banks, who had been president for less than a year. Tyson also tapped a new head of its fresh meat division in December.