Ukrainian prisoner of war execution: Zelensky vows to bring 'murderers' to justice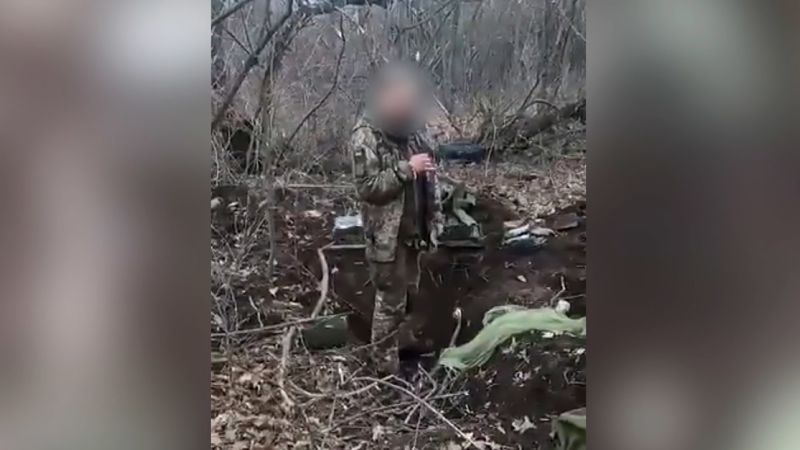 CNN
–

Ukraine's President Volodymyr Zelensky has vowed to "find the killers" involved in a video in which he said a Ukrainian soldier was executed by Russian troops, as authorities in Kiev fully described the incident as a war crime. had condemned
The video purportedly shows an unarmed soldier in Russian captivity wearing Ukrainian combat fatigues and smoking a cigarette, near what appears to be a combat position.
The man is then shown taking a cigarette out of his mouth, blowing smoke and saying "Slava Ukrainian (Glory to Ukraine)" while off-camera fighters fire several shots at him.
The 30th Mechanized Brigade of the Ukrainian Army on Tuesday named the soldier as Timofey Mykolaivych Shadura.
The brigade said in a Facebook post that Shadura was part of the contingent and had been missing since February 3 after fighting near the eastern city of Bakhmut as fighting intensified for control of eastern Donetsk region.
"Currently, the body of our attendant is temporarily in the occupied area. The final confirmation of his identity will be done after the body is returned and relevant investigations are conducted," the brigade's post added.
Zelensky condemned the video, saying it showed "how the occupiers brutally killed a warrior."
"Today, a video was released showing how the occupiers brutally killed a warrior who bravely said to their faces: 'Glory to Ukraine,'" Zalensky said in his late-night address on Monday. . "I want us all to respond to his words in unison: 'Glory to the hero. The glory of heroes. The Glory of Ukraine."
"We will find the killers," he added.
CNN has not been able to independently confirm who the executed soldier is, where he was shot and who shot him. CNN has reached out to the Ukrainian Defense Ministry for more details on the incident and the Russian Defense Ministry for a response. Russia has consistently denied allegations that its troops committed war crimes during its invasion, despite evidence to the contrary.
Ukraine's parliament's commissioner for human rights, Dmytro Lubinets, described the footage as "disgusting and disrespectful".
"The execution of a captured Ukrainian soldier is a violation of the Geneva Conventions," Lubinets wrote on Telegram, adding that he had "shared the video with international allies as evidence of yet another Russian war crime."
"All over the world the words 'Glory to Ukraine' evoke honor, respect and pride, Russians hang people for Ukrainian slogans."
Lubinets added that it was "painful" to see what Russian forces were doing in his country.
Ukrainian Foreign Minister Dmytro Kuleba said the video was additional "proof" that Moscow's attack on Ukraine was "genocide" and called on the International Criminal Court to open an investigation into "this heinous war crime".
"The culprits must face justice," Kuleba tweeted on Monday.
Zelensky's chief of staff, Andriy Yermak, also called the incident a "war crime".
Kiev's Western allies have called for greater measures to hold Moscow accountable amid allegations of crimes against humanity since the war began in February 2022, including targeted killings of civilians, forced transfers of children and incidents of sexual abuse. .
US Attorney General Merrick Garland reaffirmed Washington's "determination to hold Russia accountable for its crimes" during an unannounced trip to Ukraine on Friday.
The US Department of Justice has taken several steps to hold the Russian government and its supporters accountable since the attack began.
On Wednesday, Garland testified to the Senate Judiciary Committee that he believes the Russian government is committing crimes against humanity and said the Justice Department supports Hague's efforts to investigate and prosecute those crimes.
It comes days after the US State Department imposed sanctions on dozens of Russian officials and organizations involved in the war, including three senior Russian military leaders who it said were "involved in gross human rights violations committed against Ukraine." will be barred from entering the country for being civilians and prisoners of war," said US Secretary of State Antony Blinken.