Uttarkashi tunnel collapse: Rescue ops on hold after 'loud cracking sound', another machine to reach today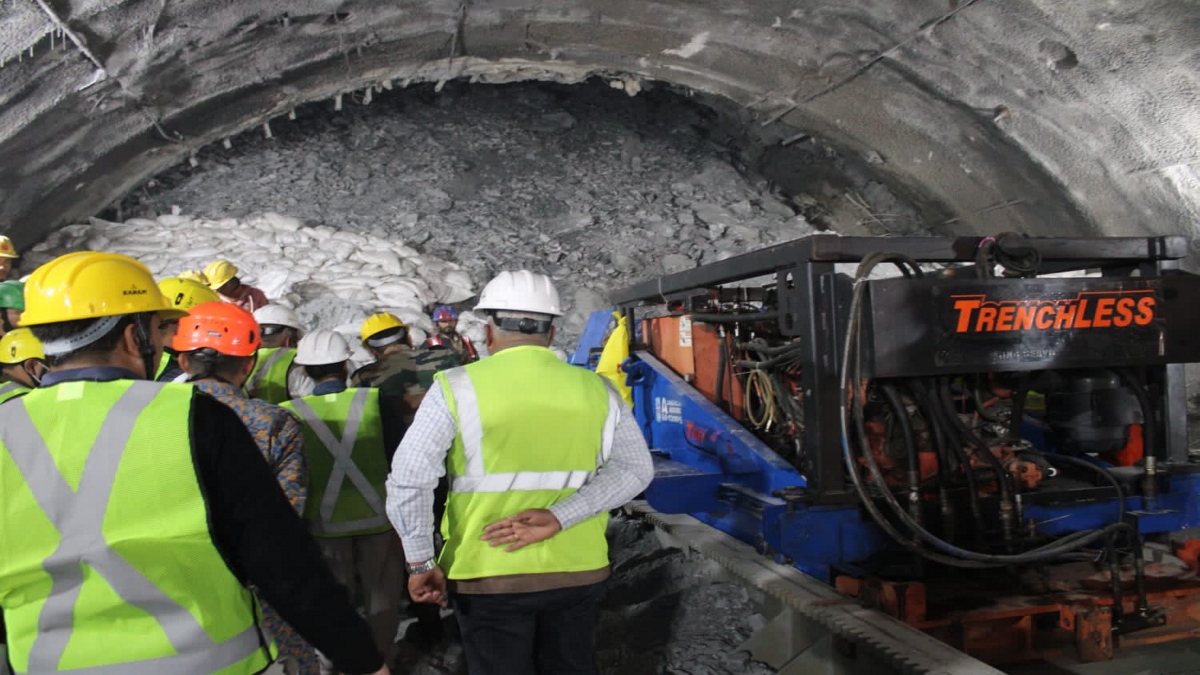 The rescue operation to safely bring out the 40 stranded workers after a portion of the under-construction Silkyara Tunnel located on the Uttarkashi-Yamnotri road collapsed, entered day 7 on Saturday morning (November 18). The relief and rescue work was halted at the tunnel temporarily since Friday, when a US-made auger machine deployed to drill and push in pipes developed a snag. Another high-performance drilling machine airlifted from Indore in Madhya Pradesh has already landed at the Jolly Grant airport in Dehradun and is being transported by road to Silkyara where it will be unloaded and assembled before being deployed for drilling, officials on the spot said.
Chief Minister Pushkar Singh Dhami conducted a review meeting with senior officers regarding the relief and rescue operations, at the camp office at the chief minister's residence in Dehradun.
By the time the operation was paused on Friday afternoon, the heavy-duty auger machine had drilled up to 24 metres through the rubble spread over a 60-metre area inside the tunnel.
"Around 2.45 pm on Friday, during the positioning of the fifth pipe, a loud cracking sound was heard in the tunnel after which the rescue operation was suspended," a statement issued by the NHIDCL late on Friday night said.
The sound created panic among the rescue team. An expert involved with the project warned about the possibility of further collapse in the vicinity. Subsequently, the pipe-pushing activity was stopped.
PMO official reaches spot
Prime Minister's Office (PMO) Deputy Secretary Mangesh Ghildiyal arrived at the spot today to inspect the progress of the rescue operation.
One heavy machine was airlifted from Delhi while another one would be airlifted from Indore to speed up the rescue efforts.
A C-17 transport aircraft of the Indian Air Force has been deployed to airlift almost 22 tonnes of critical equipment from Indore to Dehradun, officials said on Friday.
"The IAF has continued with its operations to assist the ongoing tunnel rescue underway at Dharasu, Uttarakhand. An IAF C-17 has been deployed to airlift almost 22 Tonnes of critical equipment from Indore to Dehradun. #FirstResponders #HADROps," the IAF posted on X, formerly Twitter.
Meanwhile, people whose relatives are among the 40 trapped workers are being allowed to speak to them through a pipe inside the tunnel. The tunnel is central government project being constructed under the National Highways & Infrastructure Development Corporation Limited.
(With PTI inputs)
Latest India News